International Coaching Opportunity for Academy and Local Community Coaches
Written on the 10 February 2021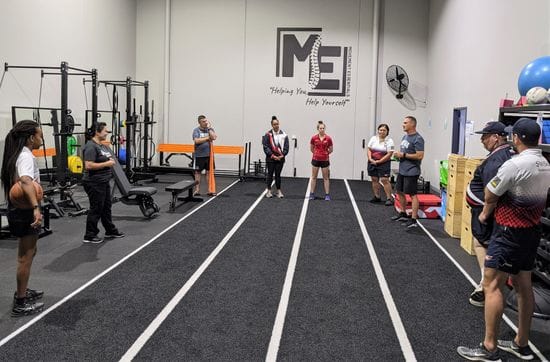 After several months of research and strategic planning, the South West Sydney Academy of Sport launched a new athlete support services program, along with the academy's 2021 QUBE coach development program throughout February 2021.
"Due to the events of Covid-19, the academy board has taken a conscious step heading into 2021, to provide an increased focus on supporting the mental health and wellbeing of its athlete and coaching staff. Through the introduction and enhancement of the Academy's key support programs", said academy CEO Gerry Knights. "To now see two of these programs become a reality, recognises the academy's commitment to athletes and coaches not only within the academy, but within the entire south west Sydney sporting community."
The academy has engaged former NRL player David Gower and Forge Wellbeing to headline the academy's athlete support services program, which will allow the academy to keep a close eye on the mental health and wellbeing of its athletes and coaches, by being able to provide targeted strategies at an academy, squad or personal athlete level.
"The athlete support involves the academy providing targeted assistance, such as mental health training and support and accessibility to strength and conditioning services outside of their normal squad programs. Along with access to an accredited Sports Chaplain, and access to an ever-growing list of academy service providers," said its ports program manager Daniel Currinckx.
"These services go above and beyond the individual skill development and training provided within their sporting programs, yet are essential for the development of not only a holistic athlete, but a good community citizen", Currinckx added.
The academy officially launched its athlete support program at the 'Academy Day', held at the Western Sydney University in late February, which provided the academy's current squads, a large cross-section of sports education topics, as part of their 2021 scholarship.
In addition to the implementation of this program, the academy has launched its 2021 QUBE coach development program, with its first session undertaken by academy coaches, in conjunction with academy service provider, Movement Essentials in early February.
"The uniqueness of having coaches representing multiple sports, who relished the chance to undertake a practical workshop, in functional movement and recover for performance; which provided them the opportunity to share their sports coaching knowledge, was simply amazing, " said the Academy sports administration officer, Stephen Craig.
Coaches who attended were definitely challenged, to 'think outside the box', when it came to developing warm-up specific training routines that provided a clear correlation, to the activity the athletes were performing.
"An exciting component of the QUBE coach development program is an upcoming presentation to be held on the 12 and 13 March from 3D Coaching Australia, specific to finding a coaches transformational purpose, which is really about the reason why coaches coach the way they coach," said Craig.
Who added that through the partnership with QUBE Logistics and 3D Coaching Australia, the Academy is now able to 'opened up' an invitation to all community coaches from across South West Sydney to attend. The Academy is conducting two identical sessions, to be held in Campbelltown, to allow as many community coaches to participate, as possible.
"Finding a coaches transformational purpose, is aimed at developing coaches across three dimensions; to not only become intentional and developing the 'why' in their coaching, but about becoming fundamentally sound, skilled in coaching the mind, and developing the heart of the athletes. Thereby, allowing coaches to continue to identify and develop their own purpose and leave a lasting coaching legacy that grows ongoing success within their teams," said Craig.
"It is about creating programs that help athletes to get from where they are now, to where they want to, or sometimes need to be both in and out of the sporting arena."
Community and representative coaches wishing to attend the QUBE Coach Development sessions in March should contact the Academy office, or check out the Academy website www.swsas.org.au/coachevents, or call 02 4627 7622.