SWSAS Netballers Tour NZ
Written on the 21 January 2016 by SWSAS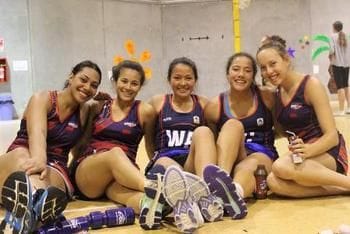 The South West Sydney Academy of Sport, Graduate Athlete netball program (GAP) recently returned from a highly successful tour of New Zealand. The touring party consisted of 13 athletes and coaching staff, plus former Academy athlete and its 2013 'athlete of the year' Kara Styles.
The Academy began its tour in Rotorua which included an opportunity to sightsee before competing against the local Rotorua Representative squad. After competing in highly intensive competitions in Sydney before leaving, the Academy was 'fast off the blocks' stunning the local hopefuls with its speed across the court and pin-point passing. The Academy well and truly demonstrated the calibre of player coming through the NSW netball pathway defeating the local side by 33 goals.
The squad then travelled to Waitara where it provided free netball coaching clinics, for local primary school students. The clinics were seen as an important part of the tour, and a fantastic opportunity for athletes to give back to the wider world netball community.
Although on tour, the squad continued its punishing training regime, including being put through their paces with an intense cross training session at one of the local martial arts gyms.
The tired but happy squad then travelled back to Auckland to face some pretty tough netball competition at Auckland Indoor Sports Centre, where it played a select representative Auckland Talent Development squad.
The netball Trans - Tasman rivalry was well and truly ignited with strong performances from both sides. Defence was strong and transfers to attack like lightening, with the superior fitness of the Academy side making the difference in the end, and going on to defeat the local side by 11 goals in what was for most of the game, a 'nail bitter'.
Coach Jaqua Heddle was impressed by the quality of New Zealand's young netballers and the stiff competition they presented the Academy's pre-elite squad.
The tour would not have been possible if it was not for the coordination of the Academy coaching staff and the support of the tours major sponsors Solid Precast, Gunlake Concrete and Advanced Precast (Aust).
With 7 athletes recently receiving contracts to represent Sydney Premier League clubs, the squad will now return to intense training in preparation for the tough Premier League season, which is set to kick off in February.
The Academy will look to replicate the amazing success of this year's GAP program by refining the criteria and recruiting talent identified athletes for its 2016 GAP program.