'All square' in Development Clash
Written on the 15 April 2016 by SWSAS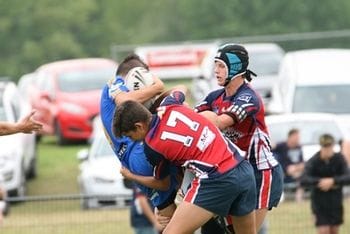 Parramatta's upcoming stars were provided a picture perfect Kirkham Park rugby league ground, for their recent visit to Camden.
The Eels U14 and U15 teams played a three-way contest in each age group against our very own South West Sydney Academy of Sport and the Country Group 6 Development squads.
Parramatta U14's were most defiantly the biggest team of the day, even over shadowing Parra's U15's. But size did not count for much in their often torrid game against SWSAS.
Our local Academy took it to the Eels in all departments, and used the mass of numbers and superior line-speed to match it with the big Eels forward pack.
The large and very vocal crowd cheered both teams on in what was a high standard and very exciting close contest, with SWSAS taking the final honours 8-4.
Parramatta were too big and strong for the smaller Group 6 U14's in game two, but some of the ball running and excellent passing raids by the locals kept the crowd on their feet.
Game three saw the two local squads go head to head and it was only in the dying stages of the match SWSAS gained the better of Group 6, with the break between games possibly being a contributing factor.
In the U15's Development games Parramatta was by far the larger in size and the larger in player numbers, and was also able to provide fresh players for each game.
Head NRL Eels coach Brad Arthur made the trip to Camden to view his future charges and was impressed with what he saw, with a similar views being expressed by the Wests Tigers recruitment manager Warren MacDonnell and its newly appointed elite player development and pathway manager Tyrone Collins.
SWSAS rugby league coordinator Elizabeth Callaghan said, Kirkham Park was an absolute picture on the day and the host club the Camden Rams was as in the past, amazing in its support of the game.
With Parramatta and SWSAS locked one-all after their U14 and U15 encounters and the Eels and SWSAS not identified to meet each other in this years, U16 Harold Matthews Cup competition draw, 2016 is deemed 'all square', Callaghan said.