As a part of the overall Athlete Wellbeing and Support Services, the Academy supports the partnership with Sports Chaplaincy Australia and the Fellowship of Christian Athletes (FCA360 Australia) for the provision of a non-denominational Sport Chaplain.
This is a quality opportunity to support the needs of our aspiring athletes, their families and coaching and support staff members; when they just need someone to talk to, or have a problem needing greater support.
Sport Chaplains are enthusiastic and active supporters of the Academy and someone all athletes should seek-out and talk to, when they visit our Academy training sessions and events.
To get in contact with our sport chaplain, Rev Jim Dayhew, email swsaschaplain@outlook.com or by contacting the Academy Office on 02 4627 7622.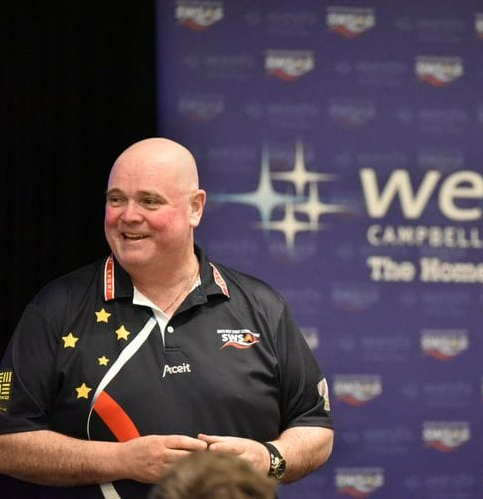 Rev. Jim Dayhew, SWSAS Chaplain
As a young guy, I thought that life was sport and sport was life. I loved my Rugby League, Cricket and Golf, and was immersed in these during my youth and young adult years. Now, as a middle aged very retired sportsperson, I know there is a lot more to life! I am very excited to serve as Chaplain of the South West Academy of Sport, supporting the holistic growth and development of the region's emerging athletes.
As a competitor and youth sports coach, I have learned that sport is a unique microcosm of life. It both reflects life and shapes it. It shapes character and reveals character. It seems our national obsession with winning can reduce the unique opportunity of sport to help young people grow as not just athletes, but as citizens.
A chaplain has the privileged position of being a friendly, approachable presence who can support and speak into important issues beyond the physical aspects of sport: the social, emotional and spiritual well being. As adults might have their sense of self formed by their job, prestige and success can become identity shaping for many in the world of sport. But this is an unreliable basis for deep fulfilment in life.
Society has matured to the point where we can discuss far more openly our mental health challenges. Young Australian cricketer Will Pucovski has spoken openly about his mental health issues. At the highest level, sports organisations increasingly understand that well being support for athletes is vital. The whole Covid experience has affected people in various ways. For our Academy athletes, attention to such issues as motivation, emotions, relationships, self-esteem, mental health, character, values, purpose, significance and identity help them grow as sportspeople, but more importantly, thriving members of society.
As the Academy Chaplain, I look forward to meeting the Academy's athletes each year.
I also look forward to connecting with coaches and parents / carers, supporting them in their important roles. I will attend training and special events on a regular basis, and be available for a chat, pastoral care, spiritual support and crisis intervention and as required.
Serving as a sports chaplain is a practical, relevant expression of the local church in the community. Sports Chaplaincy Australia supports hundreds of chaplains in elite and community level clubs across Australia.