Academy AFL Women's Program Finishes on a High
Written on the 19 July 2018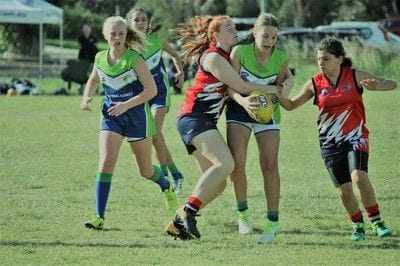 SWSAS AFL women's rising star Paris Houghton takes control of the ball and her opponent, with Tahlia Febbo happy to 'lend a hand'
Blacktown International Sports Park was the venue for South West and Western Sydney's Regional Academies of Sport, AFL talent identification programs, to come together for an end of program 'friendly' development match.
As the flood lights took full effect under threatening skies, the players were presented with perfect conditions for Footy. With the South West Sydney Academy being to strong (8-13-61 v's 7/7/49) for its Western Sydney Academy rivals.
Fifteen-minute quarters of intense, sometimes bruising action delighted a vocal contingent of family and friends. The ruck area was a very intense place to be, with many girls taking solid hits, but the real excitement happened when the ball was on the move.
A total of 15 goals were kicked, with many of these on the back of great skill and well coached 'linking', by both teams.
SWSAS manager/assistant coach Josh Barbaro was jubilant with the performance. "Our coaching focus has been pretty narrow. We have really refined the basic skills of kick, catch and passing," he said.
"The girls have come so far in just 20 weeks. Game sense and structure are also pretty solid components of our training and tonight the girls put it all together, often whilst under real pressure.
Every player understood their role, as structure is so important at this level. And, both coaching groups were very proud of their squads," added Barbaro.
SWSAS in partnership with AFL NSW/ACT has moved very quickly to provide a performance progression program for our region's best under 16's female players.
The professionalism of female AFL at the higher level, has been a precursor to a strong growth in numbers and competition opportunities locally.
The Academy was part of a State-wide roll-out that saw 10 Academy programs recruit the best raw talent from each individual region.
From this roll-out, an inaugural NSW U16's side was selected with Camden sisters Amy and Natalie Sligar being selected in the State team.
Locally, many girls are experiencing and really enjoying AFL. It is played extensively within our schools and the growth within our region is gaining strength at a club level.
Camden Blues has 2 teams, Wollondilly Redbacks, Ingleburn Magpies and Hoxton Park's South West Tigers also have a strong representation, within the Sydney AFLW U15's competition.
For more information about AFL girl's and boy's scholarships visit www.swsas.org.au or contact Gerry Knights on
02 4627 7622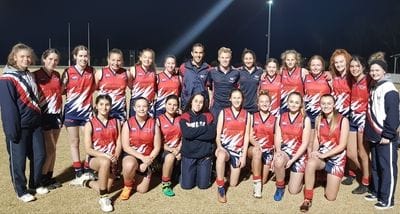 The SWSAS AFL women's squad was all smiles after enjoying a big win in an Inter-Academy 'friendly', at Blacktown International Sports Park.