Academy assists in growing AFL in the region
Written on the 2 December 2015 by SWSAS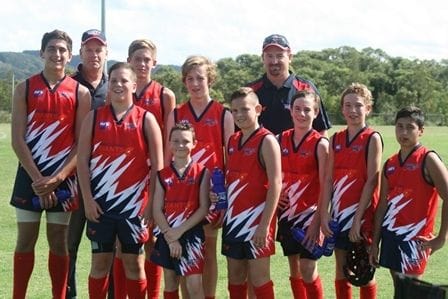 The South West Sydney Academy of Sport will once again provide an AFL Development Program to athletes and coaches from across the region.
The program successfully kicked-off last year with 30 players and the support of the codes State body the AFL NSW/ACT and the Campbelltown Blues AFL Club. This was the first time athletes of the region have been provided a 'summer development' program of its kind.
The program targets athletes aged between 13- 17 years of age, who are registered with a local AFL association. It has a pre-elite focus and junior athletes are provided the opportunity to develop their skills and gain exposure to coaches who have coached and or played at the senior level.
Coaches Neil Brunton, Kieran Buckley and Robert Woolnough played an important part in the implementation of the program and are looking forward to another great season with a larger intake of players expected.
Technical skill training and sports education are two of the programs core components provided and 2014/2015 program athletes also received education in the areas of nutrition, drugs in sport and how to maximise their potential. Fitness and personal development are also areas the Academy and the sport are keen to provide.
The Academy is keen to work closely with local clubs from within the region and provide all athletes and coaches the opportunity to be involved in the program. The program has a strong off-season focus to allow athletes the opportunity to participate with their local club during the regular season as well as be involved with the Giants Academy, which begins in March.
The program will officially begin in December and run until February. Athletes will then return to their local clubs and return back to the Academy for the ClubsNSW Academy Games in April and resume for a further 4 weeks in October to finalise the programs content.
The Academy will also assist AFL NSW/ACT in the delivery of its 'Future Stars' program which targets male and female athletes from a non AFL background.