Academy Athlete America Bound
Written on the 16 August 2019 by SWSAS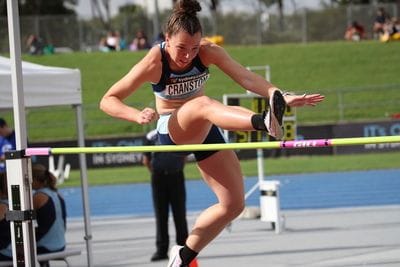 For athletes world-wide the prospect of gaining a scholarship into the American College System as a student athlete ranks amongst the highest of achievements. American Colleges consistently propel young athletes into stardom, serving as the platform to showcase their talents on a major stage.
Huge crowds turn out week after week to watch each of the 20 NCAA Sports as upwards of 460,000 athletes across America battle it out for their chance at selection into the big leagues.
For St Helens Park teenager Louise Cranston, this lifestyle is about to become a reality. Louise has been a scholarship holder with the South West Sydney Academy of Sport (SWSAS) for the past 5 years. During this time, she has been a State Champion in Heptathlon and has represented NSW at the National Championships on numerous occasions. She is about to board a flight to the US, fully committing to her latest endeavour as a University of Charleston student athlete.
Whilst this journey might seem daunting, and there is no doubt that it is, Louise has a proven history of being able to 'turn it up' when the pressure is on. Her record of achievement over many years is outstanding and in recent times her dedication and enthusiasm has been exemplary. Heptathlon is a tough sport requiring the very best in time management.
To cover all disciplines adequately Louise has 2 athletics coaches and a strength coach. Completing at least one training session a day, all whilst exceling in her HSC, being part of the leadership team at school as Vice-Captain, and giving back to the Athletics community by volunteering to teach young athletes within the sport that she has fallen in love with.
Louise is excited to say the least, stating "It's all a bit surreal and I can't believe it's actually happening. I am so excited to be heading over to the US, looking forward to the new challenges and opportunities to learn, train and compete against new opponents, all whilst being able to do full time study. It's a bit overwhelming but I know this is such an awesome opportunity". She went on to express her gratitude for SWSAS stating "I am so grateful for the support I have received over the years from SWSAS, none of this could have been achieved without them".
The SWSAS Wests Future Stars program provides support for local athletes competing at state levels of competition and above who aspire to be the very best at their sport. Be sure to keep up with all of the SWSAS Wests Future Stars by following us on social media (Facebook, Instagram) and checking out our website https://www.swsas.org.au/
For information about the SWSAS Wests Future Stars Scholarship Program Contact Academy Sports Program Manager, James Watson on 0246 277 622 or James@swsas.org.au