Academy athletes do our region proud
Written on the 6 May 2015 by SWSAS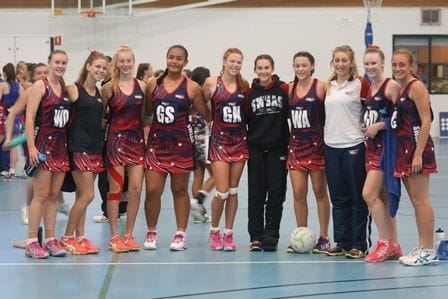 THE South West Sydney Academy of Sport has just returned from an exceptional weekend of sporting success, at the annual ClubsNSW Academy Games, where the Academy was represented in 5 sports including AFL, Netball, Golf, Triathlon and Hockey.
The Academy Games is run by the Regional Academies of Sport Inc. the umbrella organisation of NSW Regional Academies, as a means of demonstrating and celebrating the wonderful talent of Academy athletes from across regional NSW.
Historically, SWSAS has always been a strong force at the Academy Games and this year proved no different with its Division 1 Netball squad going through undefeated to win the tournament and its Division 2 Netball coming in second in its competition. Both netball squads put in a fantastic effort, especially considering that all athletes were playing against netballers a year older.
Netball rising stars Amelia Dunlop, Division 1, and Irena Kirasome Division 2, were selected as the 'MVP's' in their respective teams.
The Academy's two AFL sides played exceptionally well in both the U14s and U16s Division. The U14s squad went through undefeated after great encounters with the Northern Inland Academy of Sport and the Central Coast Academy of Sport.
The U16s played great football only losing to the Western Sydney Academy of Sport's 'Elite GWS Giants' AFL squad. Six SWSAS athletes had the opportunity to feature in the final match of the tournament which saw a 'select best team' line up against the Western Sydney 'Elite GWS Giants' squad.
Two SWSAS teams competed in the Golf tournament with the number one team placing 3rd in the team results. The competition was fierce and saw the Academy's golfers play across 3 difficult courses; with each course having its own challenges and making our local athletes rise to the occasion.
Blake Borton placed in the top 10 golfers out of 58 competitors, which was a fantastic personal achievement.
This year was the first year a SWSAS Triathlon squad took part in the Academy Games with seven triathletes competing in individual age categories', with Jackson Gray winning both the Aquathlon and Triathlon events for his age group.
A most pleasing aspect of this competition was that the majority of athletes placed in the top 10 for their respective Divisions, demonstrating the depth in this young squad.
The Academy fielded a boys and girls Hockey team in their respective competitions which were held at the Central Coast Hockey Centre. The Academy boys team finishing 3rd and the girls a creditable 4th place. Matthew Vine and Kimberly Gimbert topped off great weekends by being selected into the Academy Games Hockey 'Merit Team'.
With results like these, SWSAS remains one of the most successful participating Academies.