Academy athletes perform well at NSW Men's Hockey Championship
Written on the 19 June 2017 by SWSAS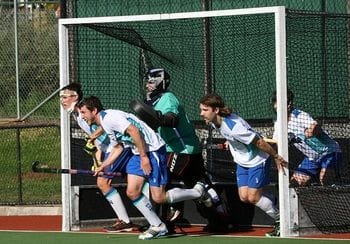 After three days of continued local rain, the NSW Men's Hockey Championship at Macarthur's Narellan Hockey Centre looked to be a wet Queens Birthday weekend affair, for the sport's most prestigious men's State event.
With the Hockey Centre prepared picture perfect by local Hockey volunteers, for our out of region VIP Hockey guests and the very best players from across the State,
the sun decided to come out after Saturday's round one game, and the weather continued fine for the remaining 3 days.
Our local Metro South West association, entered teams in all 3 divisions of the Championships, with each division receiving excellent spectator support from the large local and vocal crowd in attendance,
With a high contingent of young 'up and coming' players participating in an Open Championship for the first time, the association could not repeat its excellent results of 2016, eventually missing out on the finals in all divisions.
But there were many outstanding personal performances by our local future stars.
Division 3 Academy athletes Damian Chown and Karl Osbourne were outstanding in a team that was out-classed for the majority of its 6 games in 2 days physically demanding and unfortunate draw.
Ben Southwell also held his head high with 8 other past Academy athletes in division 2, where his team was pipped for victory in a number of its games.
And, recent Academy athletes Nathanael Stewart, Dylan Pardy, Jared Flanagan, Jackson Harrison, Landon Morley, Joshua Gregory and Ben Andaloro put in exceptional performances for our local association in the tough division one competition.
It was also great to see another past Academy athlete and current Australian Kookaburra Glenn Turner in good form and scoring goals, even if it was for our southern neighbours Goulburn.
To find out more about the Academy's Hockey program or any of its other sports, call 4627 7622, or email gerry.knights@swsas.org.au