Academy athletes receive high Council recognition
Written on the 31 March 2015 by SWSAS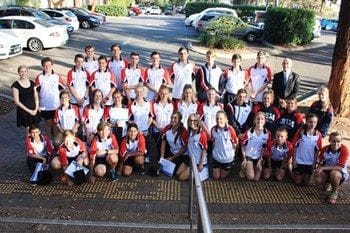 RECENTLY Camden Council held a civic reception in recognition of local Camden athletes, who have been successful in gaining scholarships with the South West Sydney Academy of Sport. Athletes, coaches and staff members alike, across all sporting disciplines where honoured for their efforts.
The Mayor of Camden Cr. Lara Symkowiak was glowing in her recognition of the achievements of Camden's top junior athletes and proudly reinforced Council's continued commitment to the development of sporting facilities and sporting opportunities locally.
The Mayor also stated her positive feelings regarding the ongoing development of the Academy and its import role in providing sporting opportunities and quality development pathways, for our region, and specifically Camden's talented athletes.
Chris Patterson local MP for Camden honoured all athletes for being an example on the field but also recognised the athletes as being future community leaders off the field. Patterson expressed his delight in the large number of Camden athletes represented at the event and is excited to see the continued growth of the Academy in the future.
The Academy's deputy chairperson Mr Ross Kelly congratulated Camden Council as a foundation partner of the Academy, and its long-term support of the Academy's growth, and stated that the Academy is an unprecedented development phase.
Kelly concluded by stating proudly that the Academy continues to be in the top two Academies in NSW when it comes to athlete performances and its number of NSW and Australian representative athletes.
This most encouraging message was reinforced by all speakers on the evening, with many others also identifying the Academy's role in the positive development of its athletes off the playing arena.
When interviewed by the Academy's executive director Gerry Knights, local athletes Caitlin Sendt (Triathlon), Marcus Berger (Golf) and Luke Bellamy (Softball) spoke individually on their given sports, their personal challenges and sporting dreams. Each athlete individually entertained the audience with their often funny, in depth 'athletes in sight' into the high quality of the Academy's sports development and education programs.
At the conclusion of the evening, Hockey squad member Rhys Cull addressed the audience and spoke specifically on his own Academy experiences.
Cull spoke highly of the Hockey program mentioning SWSAS as a great stepping stone into the NSW pathway and other overseas opportunities mentioning his time touring Japan with the NSW Bushrangers, last April. Cull concluded by expressing his gratitude to Council for its ongoing support of the Academy and Sport in Camden.