Academy athletes receive local recognition
Written on the 27 March 2014 by SWSAS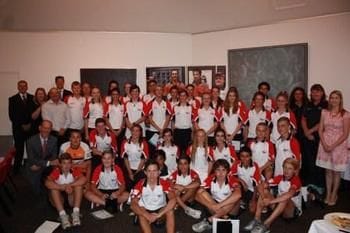 Last week Camden Council held a civic reception in recognition of local Camden athletes, who have been successful in gaining scholarships with the South West Sydney Academy of Sport.
The Mayor of Camden Cr. Lara Symkowiak was glowing in her recognition of the achievements of Camden's top junior athletes and proudly reinforced Council's continued commitment to the development of sporting facilities and sporting opportunities locally.
The Mayor also stated her positive feelings regarding the ongoing development of the Academy and its import role in providing sporting opportunities and quality development pathways, for our region, and specifically Camden's talented athletes.
This most encouraging message was reinforced by all speakers on the evening, with many also identifying the Academy's role in the positive development of its athletes off the playing arena.
The Academy chairperson Peter Campbell congratulated Camden Council as a foundation partner of the Academy, and its long-term support of the Academy's growth, and stated that the Academy is an unprecedented development phase.
Campbell concluded by stating proudly that the Academy continues to be in the top three Academies in NSW when it comes to athlete performances and its number of NSW and Australian representative athletes.
When interviewed by the Academy's executive director Gerry Knights, local discus thrower Renee Fassolis and development rugby league player Brody Dooner spoke individually on their given sports, their personal challenges and sporting dreams. Both athletes highly entertained the audience with their often funny, in depth 'athletes in sight' into the high quality of the Academy's sports development and education programs.
At the conclusion of the evening, softball squad member Isaac McDonald and netballer Paige Pirotta spoke individually regarding their own Academy experiences.
McDonald spoke highly of the softball program mentioning SWSAS as a great stepping stone to achieving his ultimate sporting goal of representing Australia. McDonald has a very impressive list of sporting achievements; including captaining the NSW U17 team and currently being a reserve for the U17 Australian Squad. He credits SWSAS for the wide range of development opportunities, including public speaking, in preparing him to be an elite athlete.
Pirotta told the audience how professional the Academy netball program is and how it teaches athletes what it's like to be an elite athlete, and also spoke of its high expectations' of athletes on and off court.
At the conclusion of the evening Knights expressed his gratitude to Council for its ongoing support of the Academy and in also allowing its athletes the opportunity to hone their public speaking and interview presentation skills in such a friendly and receptive environment.
For more information on the Academy, visit www.swsas.org.au or call (02) 4627 7622.