Academy athletes represent our region with pride
Written on the 8 May 2018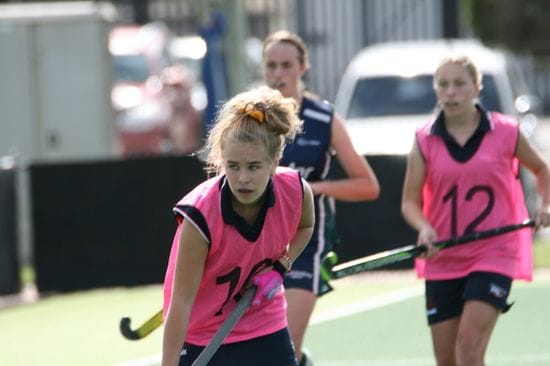 When it comes to providing opportunities to our region's up and coming stars, nobody does it better than the South West Sydney Academy of Sport.
A cavalcade of seven white buses taking local athletes to the 2018 Your Local Club Academy Games was certainly an impressive sight for parents and families waving goodbye.
More than 150 athletes representing the Macarthur and Liverpool region were aboard those seven buses and their destination was the Hunter region and three days of intense sporting competition.
First up was a spectacular opening ceremony at the Newcastle Basketball Stadium, including a march past of more than 1,200 athletes and support staff members.
When it was time for athletes to compete they had to be at their best knowing talent scouts from state sporting organisations were seated among the highly vocal spectators.
The South West Sydney Academy of Sport [SWSAS] participated in six of the nine sports on offer, fielding girls and boys teams in basketball, hockey and softball, an AFL women's team, teams in the A and B divisions netball competitions, plus golf.
The long-awaited opportunity to represent our region against some of the very best athletes from across the State, provided some excellent results.
Both the SWSAS boys and girls softball teams were declared overall winners of their respective competitions after a rain effected second day of competition.
The academy's fledgling basketball teams both finished in a highly creditable 4th place overall.
Our regions girl's hockey team finished in third place after some excellent individual performances, and in a very close and strong boys competition the SWSAS team finished sixth overall.
Miri Maroney and Mitchell Stevens were named in the Academy Games Merit Team for hockey, as were netballers Molly Lewis and Kiara Bloor.
After excellent placings at the Pacific Dunes, Medowie championship course on day one of competition for SWSAS representatives, the second day of competition at the Newcastle Golf Club, Fern Bay was washed out.
Rhys Vella was equal 4th Brandon Vella equal 5th, and Robbie Minns in equal 6th place overall.
SWSAS chairperson Peter Campbell congratulated ClubsNSW on its ongoing support of the Your Local Club Academy Games and said he was delighted with the individual performances of all academy athletes, both on and off the playing field.
For additional information regarding the academy, its programs or corporate partner opportunities, visit www.swsas.org.au or contact Gerry Knights on 4627 7622 or gerry.knights @swsas.org.au