Academy awards night amazes - sports finest
Written on the 28 August 2014 by SWSAS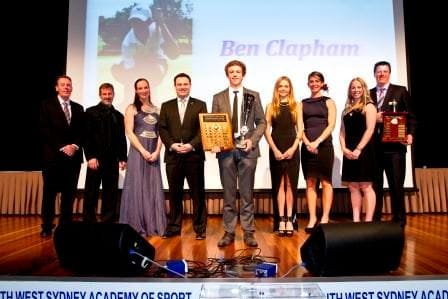 2014 SOUTH WEST SYDNEY ACADEMY OF SPORT - GRADUATION DINNER
Over 500 guests, sporting VIP's and past, current and future sports stars, recently attended our region's largest sports Academy graduation and awards presentation ever. This amazing sports event brought together all things good in Australian sport.
The sell-out South West Sydney Academy of Sport awards presentation, was an inspirational experience of past sporting glories, messages from Commonwealth Games competing athletes, and a 'who's-who' of Australia's finest National, Paralympic and Olympic heroes, alike.
The NSW's Minister for Sport and Recreation, The Hon. Stuart Ayres, expressed his pride in the achievements of our regions finest young athletes and congratulated all associated with the Academy's amazing growth over recent years. Ayres also spoke with passion about the work of all sporting volunteers and congratulated those 70 plus volunteers and supportive parents associated with the Academy.
Local politicians of all persuasions also filled the room, expounding the virtues of our regions Academy and its amazing local athletes, whilst individually re-affirming their support of the Academy's future.
Speakers, Wests Tigers James Tedesco, Netball NSW Swifts player Abbey McCulloch, and international cycling star cyclist Kaarle McCulloch, were joined by middle distance athletics' track sensation Anna Laman, Paralympian wheelchair track star Paul Nunari and 3 times Olympic swimming Champion Sarah Ryan, in providing inspiration addresses to our finest local athletes'. These local sporting greats were in high demand for photographs and autographs by the Academy's future stars and not so young supporters.
With a wide range of state sporting organizations' in attendance to support their sporting athletes, it was Rugby League's NSW's CEO David Trodden who provide a memorable special tribute to the work of the Academy, in its support of the code in Sydney's south west, in partnership with our local NRL club the Wests Tigers.
But the award highlight of the evening everybody was waiting for was the naming of the Academy 2014 'athlete of the year' winner, which went to local golfer Ben Clapham.
Clapham was one of 7 highly worthy award nominees across 6 sports. Clapham has identified himself as an inspirational hard working athlete and a highly committed community citizen; and has an exciting golfing future ahead of him.
Ongoing accolades continued to fill the room, but the cheering nearly raised the roof, when a sporting update identified recent Academy athletes Emily Smith scoring for Australia in the 17th minute and Kellie White scoring 4 minutes later in Australia's Hockeyroos, Commonwealth Games semi-final win over South Africa, was announced.
For more information regarding the evening, contact Academy executive director Gerry Knights 4627 7622. A full list of Academy award winners is available on the Academy website, swsas.org.au