Academy Backbone of NSW Softball Success
Written on the 12 February 2014 by SWSAS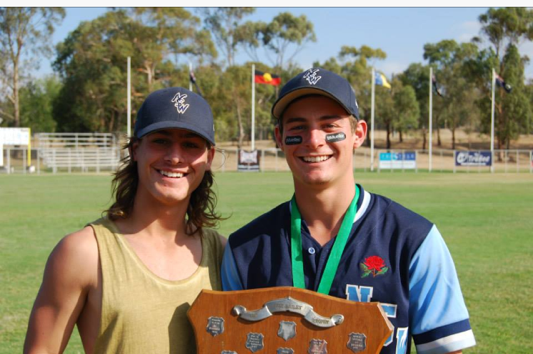 The South West Sydney Academy of Sport had an amazing 15 past and present softball athletes represent NSW during December and January at various aged Australian Softball Championships, in Canberra.

The NSW U17 Girls put in a flawless display, winning all 12 round games. And, a strong pitching performance from Laura Passfield and Gabby Plain (SWSAS) kept Victoria to only three hits and helped secure the 4-0 Championship win for NSW.
The NSW U17 Boys team also delivered an outstanding performance winning all of its 10 round games. A three run, home-run by Blake Bell (SWSAS) in the final, saw NSW take a 3-1 lead in the first innings. A later home-run for Bell and a run home on a wild pitch for Isaac McDonald (SWSAS) gave the Bluebloods a handy 5-1 lead. A desperate 2 run comeback by Queensland in the seventh innings was not enough to secure a win, with NSW running out winners 5 - 3. SWSAS athlete Blake Bell was named a most worthy 'Player of the Final'.

In the U19's men's competition, NSW and ACT proved to be the best two teams across the event, and rightfully made it through to the grand final. This was a contest that promised plenty and in the end delivered a magnificent 7-4 win, to NSW. The victory capped a very successful month for NSW with the Open Women's also winning its national final.

Academy executive director Gerry Knights speaking on behalf of the Academy's Softball coaching and support staff said, the Academy was most proud of its participating athletes' who all featured prominently in their various championships. And, our congratulations go to Blake Bell, Alex Cooper, Chris Gillies, Brad Gillies, Aydan Gough, James Groth, Chantel Ladner, Maclaine Lowe, Isaac McDonald, Luke Ollerenshaw, Mathew Roberts- Osborne, Gabrielle Plain, Kaide Risby, Izack Rossi and Masson Rossi.

2012 SWSAS 'Athlete of the Year' Mason Rossi has once again been selected for the Australian U19 men's team for a second year in succession. Mason along with fellow SWSAS athlete Luke Ollerenshaw will travel to White Horse, Canada in early July to compete in the ISF X Junior Championships. Mason was selected recognising his batting and 2nd base field skills. Two other SWSAS athletes Brad Gillies and Adyan Gough have been named as non- travelling reserves and will train with the squad all the way up until the Championships.
As part of last week's Academy news article regarding rugby league, it was reported that Parramatta defeated Wests Magpies in its Harold Matthews Cup squad trial, we are pleased to report that this was an incorrect score report, and our local boys were deserving winners on the day and will go in favourites against Many in round one of the competition.