Academy Celebrates 25th Anniversary in Style
Written on the 9 August 2022 by SWSAS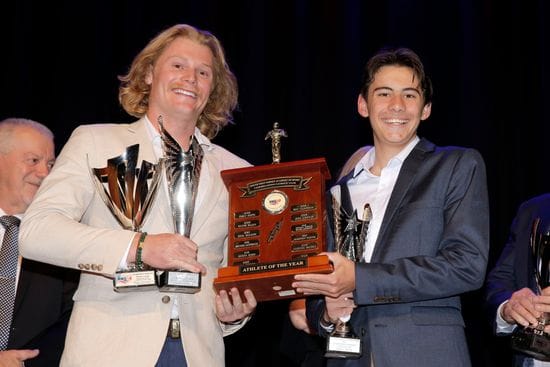 Image: Thomas Noakes and Ryan Carter were named joint winners of the Campbelltown Catholic Club South West Sydney Academy of Sport Chairperson's Award and South32 Illawarra Metallurgical Coal Athlete of the Year for 2022.
The South West Sydney Academy of Sport held its 25th Anniversary Graduation and Sport Awards Dinner on Friday 29 July 2022.
In front of a crowd of over 450 guests, MC Sarah Ryan OAM welcomed all, and in doing so recognised the many challenges the Academy athletes had over come in the past two years, through COVID-19 and local floods, to persevere through their sport.
Member for Camden, Peter Sidgreaves MP not only congratulated the athletes on achieving the success within their chosen sporting endeavours, and sticking with sport, despite the may challenges, but congratulated the Academy on achieving it's 25 year milestone.
Sidgreaves reiterated the State Government's commitment to providing the sporting infrastructure to the region, and the ongoing financial support to the regions Academy.
Yet on a night where the Academy welcomed the region's Mayor's and Councillors from Camden, Campbelltown, Liverpool and Wollondilly, along with recognising its key partners and supporters in the room, the athletes soon took centre stage, with the presentation of the major awards for 2022.
Camden Triathlete Ryan Carter, and Wollondilly Decathlete Thomas Noakes were declared as the joint recipients of the Campbelltown Catholic Club Academy Chairpersons Award and South 32 Academy Athlete of the Year for 2022, being selected from a strong field featuring one athlete from each of the Academy's twelve sport programs.
Academy Chairperson Peter Campbell said, in presenting the joint winners alongside Campbelltown Catholic Club Director Julie Puckrin and South 32 Illawarra Metallurgical Coals Vice President of Operations Peter Baker, that "Neither athlete could be separated, nor one be denied the recognition of the Academys most prestigious award."
Campbell went on to recall that both athletes, through their leadership skills, hard work and diligence to training, led them to not only represent the Academy at the highest levels, but in representing Australia within their chosen sports.
Both Carter and Noakes having represented Australia at international events in the preceding few months.
In accepting the awards, Carter praised his fellow Academy athletes and award nominees, hinting that whilst it was good to be acknowledged, that any one of them deserved the award for their achievements throughout the year. Sentiments echoed by Thomas Noakes, who also claimed the major awards in 2021.
Fellow Chairperson Award Nominees included; Hailee Meurant (AFLW), Emily Paulic (Basketball), Isaac Robinson (BMX), Noah Graham (Golf), Amanda Condon (Hockey), Ellie Hart (Netball), Markayla Butler (Softball), Michael Bzdega (Volleyball) and Ethan Brooks (Wests Future Stars).
In addition to the Chairperson Award and Athlete of the Year, the Academy recognised the service, commitment and influence of its long-serving coaching staff, presenting Diana Benoni, Samantha Garrido and Tenille Rowley (Netball), along with Marsheal Walker (Softball) and Thomas Hine (Triathlon) with bronze recognition awards, recognising three years continuous service. In addition, Fred Furner and Cara Wilde (BMX), Scott Martyn (Golf), Michelle McNamara and Lisa Filby (Netball), and David Hine (Triathlon) were presented silver recognition awards for five years service.
The Academy also presented Liverpool's Jan Cleary with a Gold, seven year service plaque, and Van Nguyen, also of Liverpool, with a Platinum award, recognising ten years continuous service to the Academy and its athletes within the Bingara Gorge Netball program.
Leading the night off, the Academy welcomed ClubsNSW Chairman Dr George Peponis OAM, who presented the sport coaches awards to an athlete from each sporting program, with the criteria for the award determined by each program's head coach.
These awards were presented to; Alexis Paulo (AFLW), Danielle Campos and Kai Allie (Basketball), Haylee Morris (BMX), Megan Henry (Golf), Charlotte Manny and Adam Nicholls (Hockey), Janita-Leota Brown (Netball), Hanna Green (Netball Umpire), Bella Ma and Harrison McDonald (Softball), Joel Skipper (Triathlon), Sibelle Hassan and Willian Chanhdara (Volleyball), Kade Smith and Dylan-Andrade Paez (Wests Future Stars).
The evening would not have been complete without entertainment, which was provided by the Thomas Hassall Anglican College stage band and saxophone quartet, which was followed by a stirring performance by Wests Future Star Baton Twirler, Renae Edmunds.
Unable to perform throughout the past two years due to COVID, Edmunds produced a flawless performance, at one stage turning off the lights and performing with glow sticks on the end of her batons, a performance worthy of a standing ovation.
Following this performance, keynote speakers Martin Reader (Beach Volleyball) and the Illawarra Hawks (Basketball) veteran of 350+ games Tim Coenraad reached the audience with an emotional tribute to their sporting journey, encouraging all athletes to trust the process and keep pursuing their own sporting dreams, and to continue to utilise the support of those around them, such as the South West Sydney Academy of Sport.
---END---