Academy commits to AFL player development
Written on the 28 November 2014 by SWSAS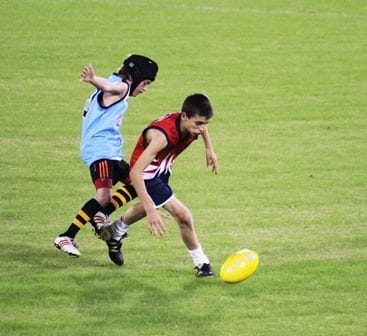 The South West Sydney Academy of Sport in conjunction with AFL NSW/ACT and supported by the Campbelltown Blues has taken AFL in the South West Sydney to another level by introducing a new AFL Community Development program.
The program provides high performance training opportunities for talented young athletes in the South West Sydney region and provides opportunities for athletes in the areas of technical skill, education and personal development and preparing athletes for the next level of elite sport representation. All athletes within the program will receive education seminars surrounding nutrition, sports science testing, sport psychology, drugs in sport as well as access to elite coaching.
The program is the first of its kind and will have a focus on local clubs and aims to improve the athlete's performance, firstly at a club level but also to assist in ensuring an athlete is considered for the Greater Western Sydney Giants Academy in future years. The program has been broken up into pre-season and post-season to work alongside the regular AFL season. The programs pre-season is scheduled to begin in the second week of December and run for 6 weeks finishing in the second week of February. The post season will then commence for 4 weeks in the second week of October.
The program will be targeting two age groups, the first being 13- 14 year olds and the second being 15-17 year olds. There will be a big focus on supporting the integration of the older athletes into their local senior clubs to ensure progression continues.
Information is currently being distributed to local clubs. For more information regarding the South West Sydney Academy of Sports AFL Community Development Program contact 4627 7622 or sarah@swsas.org.au.