Academy efforts Applauded by NSW Sports Minister
Written on the 8 November 2016 by SWSAS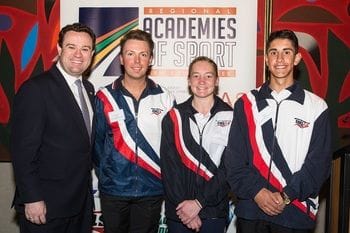 Over 50 NSW Members of Parliament gladly left their Chamber debates, to attend a function held to formally recognise the outstanding achievements of junior athletes from their respective regions.
Our local Macarthur and Liverpool regions were well represented with three local South West Sydney Academy of Sport athletes taking pride of place at the reception hosted by the Speaker of the House, The Hon. Shelly Hancock MP.
The Minister for Sport, The Hon. Stuart Ayres commended all academies on the quality of athletes being developed by regional academies and also recognised the amazing support provided by their many volunteers.
The Academy was represented by Australian tenpin bowling representative Daniel Webb, wheelchair basketball sensation and U25 World Championships Silver Medallist Jessica Cronje and local rising Softball star Jack Morel.
Academy joint '2016 athlete of the year' Jessica Cronje was a favourite with guests and received an outstanding round of applause for her remarkable recent achievements which have now placed her in a position for future Paralympic Games selection.
The reception was organised by our local academy executive director Gerry Knights on behalf of all regional academies in NSW and was developed to recognise the excellent work of NSW academies and their athlete successes.
The academy executive director took the opportunity to recognise and formally thank the Academy's principal local sponsors SOUTH32 Illawarra Coal and the Campbelltown Catholic Club, stating that the Academy's recent remarkable growth was a direct result of their outstanding ongoing support.
Academy Board member and Western Sydney University, Dean of School of Science and Health, Professor Gregory Kolt, commended our three local athletes and needed no prompting to speak on the quality of our young outstanding sports people and volunteers in Sydney's south west, whilst also commending all associated with the academy for its ongoing excellent work.