Academy Fast Tracking into 2017 with the inclusion of local Kart Racing athlete
Written on the 20 March 2017 by SWSAS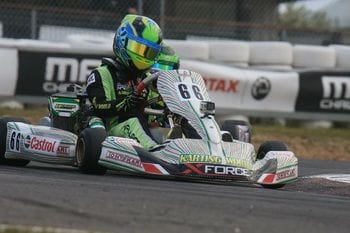 Local karts racer Angus Wallace's induction into the South West Sydney Academy of Sport's 'Lone Star' athlete program is seen as the next step in his personal and sports development pathway.
With the ultimate goal of racing at the highest level in V/8 Super Cars, or hopefully Formula 1 racing, he has everything to aim for within the sport of motor racing.
Wallace is a student of St Gregory's College Campbelltown and commenced racing at a club level in 2013 at the local Picton kart track, and has since progressed to competing at tracks across NSW and the east coast of Australia. 2015 saw Wallace compete at his first NSW State championship and in the same year progressed sufficiently, to participate in kart racing's Australian titles.
After finishing a creditable 8th overall in the NSW KA4 Junior Light Class in 2016 and also being named the junior club champion for Wollongong kart club, Wallace will participate in the full Pro Tour series and NSW state titles, in 2017.
When many were thinking of Christmas Wallace was in Newcastle to race in the Metro Cup series, where all metropolitan clubs race each other.
Finishing the Final in 6th place, he said the kart was just not right for the final race, costing him a few spots.
Late December, he was back on the Picton circuit for skills training and kart testing with the Karting World guys and was fortunate to meet V/8 Super Car driver David Wall at the track in his kart.
Wallace said, he was such a great guy and had plenty of time for us on the track and that is why Wallace enjoys motor sport so much, everyone is so supportive.
When he is not racing Wallace spends his time at home on his race simulator practicing, playing Rugby League for Camden Rams and St Gregory's Collage, dirt bikes, or going to the cross fit gym to keep as fit as possible.
Wallace has his own Facebook page Angus Wallace Motorsport #7 and has over 600 page likes that follow and support his racing.
When interviewed he was quick to recognise the support of his kart sponsors and those who are supporting him on his journey. Wallace is definitely a young athlete on the rise.
The aim of the 'Lone Star' program is to provide local athletes the opportunity and access skill development support and a wide range of sports education opportunities, including injury prevention, sports nutrition, drugs in sport and media training.
For additional information regarding the 'Lone Star' program contact executive director Mr Gerry Knights on 0407 415 847, 4627 7622, or visit www.swsas.org.au