Academy games just around the corner
Written on the 19 May 2014 by SWSAS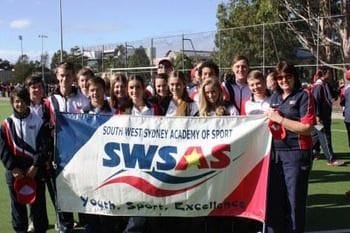 Over one thousand of New South Wales future sporting elite will descend on the Illawarra in less than a fortnight, for the Annual ClubsNSW Regional Academy Games. The South West Sydney Academy of Sport will be sending a 60 strong squad of athletes representing the sports of golf, hockey, netball and rugby union.
The Academy Games will be held over the weekend of 12-13 April at venues across Wollongong, Shellharbour, Kiama, the Shoalhaven and Southern Highlands, with athletes from seven regional academies showcasing their skills across seven varied sports.
The objective of our local Academy is to provide young athletes with expert skill training and playing opportunities, plus education to help them reach the elite level, in their chosen sport. And, the Academy Games provides athletes with the opportunity to play against some of the best athletes in the state.
Our local Academy's sports program manager Nicole Styles caught up with the coaching staff of each participating Academy sport, with a view to getting an insight into what they were hoping their squads would gain from the experience of participating in the Academy Games.
Hockey
Due to a clash with the staging of two Junior Australian Aged Hockey Championships, in which a large contingent of Academy athletes' have been successfully selected; the Academy has been able to offer its Tier 2 Hockey players the opportunity to step up a level and compete at the Academy Games.
Hockey coach Wayne Southwell stated that the Academy coaching staff members were looking to further assess each player's individual skill and fitness development, and their ability to integrate these aspects of their game in team role and responsibility situations.
Netball
After a successful 2013 Academy Games, Netball Head Coach Jaqua Heddle is looking to capitalise on past recent successes and put into play the skills the squad has been working on over the past four months. For Heddle Academy Games is all about player development and exposure, so having three debutants in this year's team is a very exciting prospect, for her. The girls are also looking forward retribution when pitted against the strong Sydney Netball Academy, their only Academy Games loss in 2013.
Golf
Since being inducted into the Academy program all members of the golf program have reduced their personal handicaps, and squad manager Jamie Clapham is thrilled with the efforts and achievements of his charges, this far.
The focus for the golf squad at Academy Games will be to play to their individual handicap best and to develop consistence away from their individual courses.