Academy head coach anointed Hockey NSW 'Coach of the Year'
Written on the 20 March 2017 by SWSAS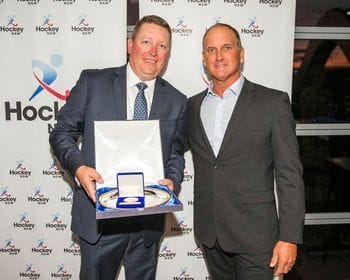 Amidst all the action of the Basil Sellers Regional Challenge, Hockey NSW found a chance to celebrate 2016, the hectic year that was.
The 2016 Hockey NSW Awards night of nights, was held at the beautiful Mount Panorama Rydges, rightfully overlooking the Bathurst regional centre of hockey; as the best and brightest of the State were honoured for their efforts over the past twelve months.
Emceed by two-time Olympian and South West Sydney Academy of Sport 'Hockeyroo' Emily Smith, the hockey community of NSW came together to revel in the afterglow of a fantastic year, full of highlights with the State Championships, Trans-Tasman Tournament and Olympic Games offering much to celebrate.
Amongst the top award winners for 2016 was the Academy's very own head hockey coach Wayne Southwell. Southwell was identified for his high quality coaching skills across many levels in 2016, culminating in being named the 2016 NSW Hockey 'Coach of the Year'.
The presentation of the award received high acclimation from the very astute hockey gathering and was presented by past World Hockey Player of the Year, Warren Birmingham.
Academy executive director Gerry Knights said, Southwell has been an integral member of the Academy coaching staff for the past 12 years, and was the recipient of its 'Outstanding Service Award', at the Academy's 2015 Graduation and Sports Awards Dinner.
He is a person who continues to place himself in the forefront of State coaching opportunities, with his goal being to transfer the most up-to-date technical skill knowledge gained at the highest level, directly to our regions aspiring young athletes.
As a local first grade coach and the Academy's head coach, he has transformed the level of professionalism, quality of athlete and team performance across our region, and the State.
Southwell is also an outstanding highly skilled player in his own right and has represented NSW at the Masters Australian Championships, on many occasions: but it is his total passion to the development of others that stand's him head and shoulder above the rest.
Knights continued by saying, it is amazing how Southwell and his coaching wife Karen organise their time, with regard to the astonishing number of hockey coaching positions they undertake, their time-management skills are extraordinary.
The next outing for the Academy hockey program is participating in the ClubsNSW Academy Games on the Central Coast on the 7 to 9 April 2017.
For information regarding Academy programs visit www.swsas.org.au or call 4627 7622.