Academy Netballers contracted to Premier League
Written on the 2 December 2015 by SWSAS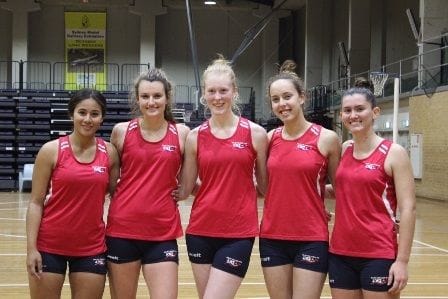 This year the South West Sydney Academy of Sport in partnership with Netball NSW introduced a 'graduate athlete program' (GAP). The program provides the opportunity for athletes 17 to 19 years of age, to further their development pathway after completing their initial Academy open netball program.
The program is designed to support our regions talented athletes with potential for future State team selection and the results have been outstanding and exceeded all expectations.
Recent Netball NSW Premier League club related announcement's identified that 7 GAP program athletes have been contracted to Sydney Premier League sides.
Kodee Heddle has been contracted to the 'Panthers' Premier League open team with Laura Henderson, Liana Hogarth and Tiana Mosca being contracted to the 'Panthers' under 20's team which will be coached by Academy mentor coach Jaqua Heddle.
Olivia Rowntree has also received a Premier League open's team contract with the UTS - St George 'Sparks', with Paige Pirotta gaining a contract in its under 20's squad. Ashley Valeni also successfully secured an opens contract with the Sutherland 'Stingrays'.
To top off what has been an amazing year for Academy netball, one of its current open netball squad players Megan Bull has been successful in gaining a contract with the Penrith 'Panthers' franchise.
GAP program head coach Jaqua Heddle stated the aim of the program is to support emerging talent and provide a platform for players, coaches, officials and administrators to progress to NSW section, the Australian Netball League and the ANZ Championship.
This year also saw one GAP athlete Ashley Valeni gain selection in the 2015 Australian under 19's squad which toured New Zealand in May.
The program has ended on a high with the GAP squad recently returning from a 10 day tour of New Zealand. The players participated in games against NZ teams and provide a free coaching for local primary school students during its stay in Waitara.
Heddle stated, local clubs and associations should be equally proud of the success of their Academy athletes. And the squad deserves all of its success, as it has been working tirelessly on the court and to fundraise for the tour.
And, the Academy recognises that all of this success and the tour would not have been possible if it was not for the support of the Academy's coaching staff, and tours sponsors like Solid Precast, Gunlake Concrete and Advanced Precast (Aust).