Academy Representative Rugby League ready to 'kick off'
Written on the 2 December 2015 by SWSAS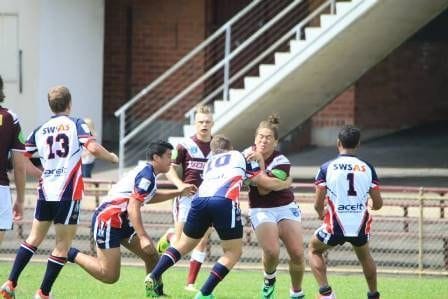 With the regular NRL season currently at rest, all eyes will soon be moving towards Rugby League's junior representative competitions, where the best of NSW and Queensland players do battle for U16 and U18 competition and State of Origin supremacy.
The South West Sydney Academy of Sport has just announced its train-on squad for the prestigious Harold Matthews Cup U16 representative competition, which is recognised across Rugby League as the best junior representative competition in the world.
The 2016 squad will be led by new head coach Abdul Nabhan, following the promotion of the Academy's 2015 successful head coach, Wayne Azzopardi to Wests Magpies duties.
Round One of this year's completion 'kicks off' on 13 February with a home game against the Cronulla Sutherland 'Sharks' last year's competition winners, at Kirkham Oval, Camden.
But there is a lot of hard work to be done by this year's incoming train-on squad prior to the commencement of competition; including three pre-season games and Academy's annual across the continent challenge against Western Australia's U16 representative team in January.
On the junior development front, the Academy recently trialling the region's best under 14 and 15 rugby league athletes, for inclusion in its 2014/2015 'Summer Development Program'.
The Harold Matthews Cup and the Summer Development Program are supported by the Wests Tigers, the NSW Rugby League and the Country Group 6 and Western Suburbs Junior Rugby Leagues.
The NSW Rugby League and Wests Tigers continue to see the Academy as an integral part of the ongoing development of local junior rugby league and continue to support the Academy, at every opportunity.
The Academy's corporate partners SOUTH32 and the Campbelltown Catholic Club also play an integral part in financially supporting this opportunity for our regions talented athletes.
Wests Tigers recognises that local player development provides the club long term on-field player quality and security, at the NRL level.
With the south west Sydney region set to be the largest Sydney growth region in the next 15 years, the sport of Rugby League is in good hands with Academy development opportunities' like these available for local players.