Academy's rising netball star Premier League bound
Written on the 14 January 2019 by South West Voice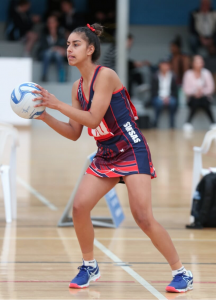 Campbelltown netball prodigy Rahni Wilkes is Premier League bound.
The
16 year old
has won selection to the strong Eastwood Ryde Premier League Club train on squad for 2019.
Being part of a Premier League club train on squad will enable Wilkes to further develop her skills and gain valuable professional club experience, says South West Sydney Academy of Sport (SWSAS) netball head coach Van Nguyen.

"The train on squad for Eastwood Ryde attracts many great players each year and very few are selected for the opportunity to be mentored and coached by some of the best netball can offer,'' Nguen said.
"Rahni has cemented herself as an integral component of the SWSAS netball squad, and this is the next step up for her.''

The young star said she was very proud to be a SWSAS netballer and that the academy has helped her so much already, including how to professionally prepare herself for trials and games through proper nutrition, hydration and recovery.
"SWSAS has taught me to be a 24-hour athlete, including how to act and look professional on and off the court,'' she said.
Nguyen said Wilkes had developed in many ways since joining the academy's netball squad two years ago.
"She is an ever-improving strong and determined player and also a great role model for the up and coming athletes in the SWSAS program.

"She has been working hard for an opportunity like this and I know she will embrace every moment and opportunity that she is presented within Premier League netball."

The selection of Wilkes is also further evidence of SWSAS as an excellent stepping stone for netballers to learn and develop their sport specific skills within their local area, without having to leave family, friends and the comfort of their own home at a young age.
For more information about the academy's sports programs, contact Gerry Knights via email, gerry.knights@swsas.org.au or call the academy administration centre on 4627 7622.