Academy's rising stars of netball launch push for higher honours
Written on the 30 June 2017 by SWSAS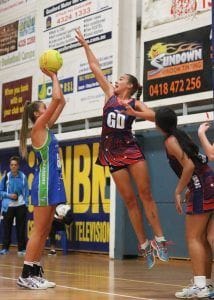 SOUTH WEST SYDNEY VOICE on Sunday, 21 May, 2017 in Sport

Higher honours time: South West Sydney Academy of Sport netballer Amy Sligar (GD), showing some of the athletic skills that earned her NSW selection during the recently held ClubsNSW Academy Games.
As the representative netball season gets under way, the rising stars of the South West Sydney Academy of Sport (SWSAS) are launching their own push for state and national honours.
SWSAS has a long history of rep selection success in netball and it's expected that nothing much will change in 2017.
Some of the rising SWSAS netballers making waves this year include Camden twins Amy and Natalie Sligar, who have been selected in the NSW Combined Catholic Schools under 15s netball side.
Academy teammates Courtney Castle, Jaidarose Lene and Mereana Peyroux have won places in the NSW Combined High Schools team. Courtney has also been selected in the under 15 indoor netball Australian side, which will tour South Africa this July.
Executive director Gerry Knights says that it looks very likely several other SWSAS athletes will win representative honours when the NSW Independent Schools netball squad is announced.
"Then the fun begins,'' says Mr Knights.
"The established friendships will be put to one side for a short period and the intensity of competitive high level sport will be front of stage.
"We expect that all girls will compete fiercely against each other for positions in the NSW All Schools team.
"The selected girls will then compete against Australia's best at the 2017 National Championships.''
Representative netball is very intense and the girls that love this sport "live it'', explains Mr Knights.
Many play for their club, their association and then participate in the specialised Academy program as well. The program gives the girls a high level of exposure to top end coaching, training and competition.
This group recently competed at the ClubsNSW Academy Games, and this coming week will venture to NSW Netball headquarters to receive tuition from, amongst others, Australian Diamonds coach Lisa Alexander.
Alexander will be supported by Alanna Antcliff, the Australian Diamonds physiotherapist, Caitlin Reid, NSW Swifts dietitian, Jason Howell, NSW Swifts strength and conditioning coach and Simone Freeman, the NSW Giants strength and conditioning coach.
Lisa Alexander says that the Academy program is a great opportunity for the selected girls.
"We have high progression expectations of every athlete, but that's netball.
"The girls come to our program at 14 years old and the education starts straight away.
"We know what is required to succeed at the highest level.
"And, our attention to detail regarding athlete management and over training is second to none, but yes, our netballers are expected to learn fast and extremely well,'' Ms Alexander said.