Academy's Wallace #7 'Go to Whoa' at Coffs
Written on the 30 June 2017 by SWSAS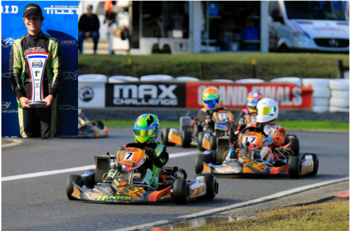 Macarthur's very own Kart Racing ace and South West Sydney Academy of Sport 'Lone Star' program athlete, Angus Wallace capped of a great weekend of consistent high octane karting with a big win in the final.
Angus is racing in the prestigious Rotax Pro Tour Series. Round four of this series, which was held at The Coffs Harbour Kart Racing Club, presented the Kart teams with a 'mixed bag' in terms of track conditions.
When the sun came out for the Final of the Junior Max Trophy division it was all Wallace! Starting from position three on the grid Angus made the required precision moves to take the lead on the first lap and he was never headed. Twenty two laps of relentless skill and concertation reaching speeds up to 120km/per hour to greet the chequered flag first. A fantastic result!
Angus has been 'in the mix' all year securing a steady flow of heat wins and podiums. It is a massive task as a 15yr old.
The Rotax Pro Tour is a National event. Already this year Angus has been to Ipswich in Qld, Bolivar in South Australia and Todd Rd in Victoria.
Hewill again return to Victoria with the next race being at Puckapunyal in early August. Angus is quite the professional. As with all Motorsports, it's expensive and requires much support. Angus's parents are behind him every step of the way but Angus is already very proactive, doing the off track work required to be successful.

He has a Facebook page - Angus Wallace Motorsport #7 which has over 700 followers, he has secured sponsorship deals with some big names such as Castrol, Century Batteries, Karting world Camden and Wests Leagues Club as well as a host of other supporters keeping his 'rocket on wheels' performing at the level required to compliment his talent.
Angus holds a 'Lone Star' sporting scholarship with the Academy and he is the model 'student'. He is a delightful young man who embraces every opportunity the Academy offers him. He recently attended the Campbelltown City Council Mayoral Reception for Academy athletes where he met with the Mayor and the Academy Chairperson to discuss his sport. He also had a great time at Macquarie Fields TAFE receiving some specialist tuition to compliment his strength and conditioning program.
Speaking with Angus's father Glenn, he stated that he is so motivated and it is just something within him, be it on the track, his nutrition, hydration, strength and flexibility. He attends to every aspect of his performance by himself. Angus attends boarding school. I think this is part of the reason he is so independent. He does his own research and teaches us.