Academy Softball Squad 'Hit Home Runs' at Nationals.
Written on the 23 January 2023 by SWSAS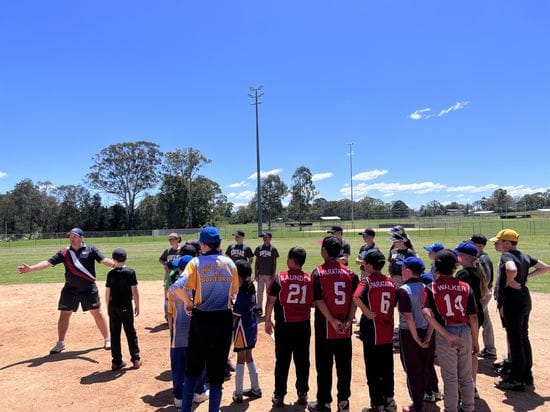 Athletes and Coaching Staff from the Academy's Softball squad have been teaching young athletes from our local community, as a part of their athlete scholarship program.
Two current and three former South West Sydney Academy of Sport Softball athletes have returned home from the Softball Australia U16 National Championships held during January in Victoria, with a little extra "bling" they can proudly wear around their necks.
Current Academy squad member Jordan McSavaney, along with alumni Softballers Carter Shears, Blaze Pus and Harrison McDonald were a part of the Gold-Medal winning NSW U16 State team that defeated Queensland 17-10 in a very exciting and high-scoring Grand Final. The result made even sweeter after the forced cancellation of the 2021 event due to COVID, and reduced State participation in 2022. Back against a full-strength list of interstate opponents, the win made it two in a row National Championships, for NSW.
Academy female softball squad member Markayla Butler also shone as a very important member of the Silver-Medal winning NSW U16 Girls team, who after progressing through the round-robin series undefeated, were narrowly held out 3-2 by Queensland, in the Grand Final.

Back on the home front, the 2022-2023 Academy Softball squad program is well and truly in full swing. Supported by RBI Australia and Softball NSW, the Academy squad hosted a successful 'Come and Try' day at the Campbelltown Softball Grounds in late November, where the squad took a large and enthusiastic group of young aspiring community softballers through their paces.
With the clinic targeting local Association 12–14-year athletes, the Academy squad mirrored what would be a typical training session. Including skill development in throwing, catching, fielding, hitting, and pitching. With the clinic being deemed an absolute 'home run'.
"Members of the Academy squad displayed true leadership as they honed the skills of our region's budding young athletes. And with those in attendance eligible for future Academy representation, there are many encouraging signs for the future, as Softball continues to regain traction in our community," said Academy CEO Gerry Knights.
The Academy is planning to host a further two 'come and try' clinics in the next few months, with clinics scheduled for the Southern Districts Softball Association on Sunday 26 February 2023, followed by the Macarthur Softball Association on Sunday 16 March 2023.
"The Macarthur Softball Association grounds were heavily impacted by the Camden floods not once, but twice in 2022. And we are glad to see the association is getting back on its feet, as we look forward to having our squad work with its up-and-coming athletes, in the very near future," said Knights.
Further information regarding upcoming Softball clinics can be found on the Academy's website www.swsas.org.au or by following the link to www.swsas.org.au/softballclinic