Academy Sprinting for Gold Medal Vibes
Written on the 5 October 2022 by SWSAS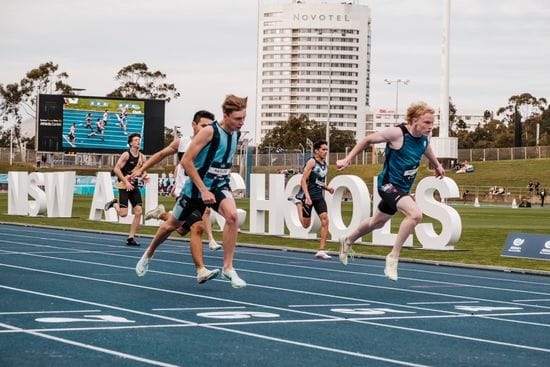 Cody Hasler set a blistering 10.99sec mark to claim Gold in the 100m final as he sets his sights firmly on Adelaide and the Australian All-Schools Championship in December.
The South West Sydney Academy of Sport is currently on the look out for its next crop of super star athletes, and future gold-medallists, having recently opened nominations in all their current sport programs, including the Wests Future Stars program.
These junior talented pathway programs, conducted in cooperation with the various State Sporting Organisations and local clubs, have helped the South West Sydney region's athletes along their sporting journey to taste success.
Household names like James Tedesco, who was recently named into the Australian World Cup Kangaroo squad, Commonwealth Games Netball Gold Medallist Ashleigh Brazill, multi-Olympian Emily Chalker, Commonwealth Games Gold and Olympic Silver medallist sprinter Clinton Hill, and Australian Softballer Gabbie Plain have all been a part of the Academy during its 25 year history.
In fact, the Academy boasts eight Olympic and Para-Olympic heroes, along with a host of eleven coaches, and over 150 athletes who have gone on to represent Australia, including 25 in Athletics.
A feat not lost on Wests Future Stars athlete, Cody Hasler, who last week sprinted his way to secure his ticket to the Australian All-Schools Athletics Championships set to take place in Adelaide in December, after, setting blistering times in both the 100m and 200m 16 Years events. Hasler, who is in his first year with the South West Sydney Academy of Sport recorded a personal best of 21.99 seconds in the 200m; backing up from an incredible come from behind 10.99 second run in the 100m. Only 0.3 of a second off the NSW All-schools record set in 2014.
"My goals going into the meet (NSW All Schools) were to run sub 11 and 22 seconds for the 100m and 200m respectively", said Hasler, who was happy to report that he had achieved those goals. "I wanted to be a part of the Academy because I felt that it would help me become a better athlete and help me create new friendships, and it has." Said Hasler, who now has his eyes focused on his personal best of 10.63 seconds for the 100m.
Joining Hasler on the podium at the NSW All Schools event was Michael King, who, after missing almost twelve months of competition following an injury in late 2021, claimed bronze in the 17 years 800m in a time of 1 min 55.53 seconds. Fellow South West Sydney Academy Wests Future Stars Athletics competitors Kaitlin Tattersall (Pictured) and Tiarna Green also competed at the NSW All Schools, with Tattersall recording a 5th in the 15 years Girls 100m and 200m events, less than half a second off the podium, whilst Green narrowly missed the final of the same event by a similar margin. Both also competing against each other in the long jump, finishing 8th and 13th overall, albeit only 30cm apart.
"Athletics as a sporting discipline is currently a part of our Wests Future Stars Program", said Sport Operations Manager Stephen Craig, "This is a program designed primarily for individual athletes aged 12 – 20 years old, who are in a sporting environment that we don't currently operate a traditional squad program for" he added. Commenting that most athletes who fit the Future Stars criteria have their own individual coach who takes care of the athlete's individual skill development. "Where the Academy can fit into that development is by providing a squad-based approach to athlete education, such as nutrition, strength and conditioning, and wellbeing support programs, often in an environment that supports the athletes home coach and training program." said Craig.
The Academy's connections and link to the NSW sports high performance pathways and the NSW Institute of Sport programs sets them apart to provide the experience and opportunity for athletes to continue their training toward athletic success, however it is not just sprinters and jumpers who benefit from the Academy's Future Stars program.
"The Future Stars program, partnered by Wests League Club is not just for Athletics athletes" said Craig, adding that, "any sport that has a State or National Governing body is considered, including such sports like Baton Twirling, Cheerleading, Skateboarding, Snow Skiing, Inline Skating, Kart Racing, Equestrian, Road or Track Cycling, Touch Football and Tennis could be included, along with Para-athletics and para-sports such as Wheelchair Basketball and Wheelchair Rugby".
And the current athlete intake doesn't stop there, with nominations open for athletes in AFLW, Basketball, BMX, Golf, Netball, Hockey, Softball and Volleyball invited to head to the website, swsas.org.au and apply. Athletes are encouraged to read all the information available on the website as some programs are junior age limited. '
For more information Contact the Academy at swsas.org.au or email sport@swsas.org.au