Academy to take on new intake of athletes
Written on the 25 September 2015 by SWSAS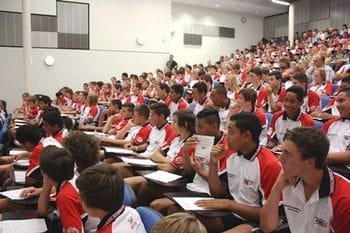 The South West Sydney Academy of Sport administration office is hard at work servicing the extraordinary number of nominations' for its upcoming 2015/2016 athlete scholarship intake year.
Nominations are now open for girls boys and girls Basketball, boys and girls Golf and boys and girls Hockey.
Athlete nominations for boys and girls Athletics, and boys AFL, Rugby Union and Rugby League will open soon with selection trials for Netball, Softball and Ten Pin Bowling well under way.
The Academy is particularly excited about the inclusion of Basketball as one of its new sports programs for 2015/2016, as Academy staff members have been working hard alongside Basketball NSW and the local associations to get the program up and running.
The program will target athletes in the U14s and U16s age group who are registered with a Basketball NSW affiliated association.
The Academy has more than doubled its athlete intake in the past 3 years and is hoping to further add to its remarkable 345 current athlete tally, with the re-inclusion of Ten Pin Bowling, along with the prospect of including either BMX, or Harness Racing into this upcoming intake.
Sports Program Manager, Sarah Shehata said all sports have generated enormous interest from local athletes this year, with Netball and Softball leading the charge.
This season will be the second year the Academy implements the Netball Australia national curriculum 'Develop A Diamond program' which identifies players turning 14, 15 and 16 in 2016, following the outstanding success of the 2014/2015 program.
Last year also saw a record breaking number of athletes nominate for the Academy's boys and girls Softball program, with a large number of athletes gaining NSW and Australian representation. The Academy's hoping to continue this success, this year.
All Academy sports programs aim to develop local talent identified athletes both 'on and off' the field, in partnership with the sports relevant State Sporting Organisation; with a view to progressing athletes to high representative honours.