Academy Training a Class Above
Written on the 7 March 2023 by SWSAS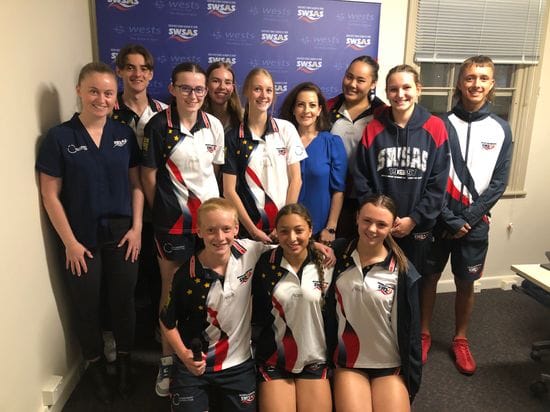 Academy athletes from the Camden and Wollondilly LGA's receiving interview and media skills training from Sky News Producer Monica Lepore.
Several lucky Academy athletes had a great opportunity in February, as a part of the Academy's "Captain Class" leadership initiative, where they found themselves fortunate enough to spend an evening with Sky News Executive Producer Monica Lepore. The evening saw the first group of selected athletes undertake media skills and interview training in the lead up to the four Local Government Council Civic receptions undertaken by Academy athletes.
Athletes were taken through an introduction to the media, which included identifying differences in traditional and online media, as well as preparing for and undertaking an interview. Examples of good and not so good interviews were provided allowing the athletes to begin to identify what they may be faced with as they continue their sporting journey, followed by the athletes working in small groups to begin shaping their own stories.
After going through a range of short answer questions to help prompt key events and discussion points within their sport careers to date, the athletes were then able to practice being interviewed. This included a session on presentation skills, including body language, projecting speech, and being prepared to hear yourself through a microphone, before each athlete was placed into the spotlight.
The evening provided a great opportunity for both athletes and staff to practice public speaking, thinking on their feet and finding the follow up response, and answering the sometimes curly question confidently. The athletes will soon have the opportunity to tell their own story in front of their peers, parents and Academy partners at the upcoming Local Government Civic Receptions throughout the next few months.

The "Captain's Class" leadership initiative provides a great opportunity for selected athletes within the Academy to experience additional leadership training, such as Media and Interview skills to assist promote the Academy, as well as gain skills that can assist them further their own sporting journey.
These opportunities can include being selected for photo shoots (Pictured: Behind the scenes at a recent partnership activation with netball program partner, Bingara Gorge), and partnership launches with Academy partners, access to guest speakers and education sessions, as well as access to sporting event tickets provided by various Academy partners and supporters.
Undertaken outside and above their sport program scholarship commitments, selected athletes are seen to have shown dedication to the Academy values of Commitment, Opportunity, Respect and Integrity within their training program. Potential athletes are often discussed with coach and support staff following observation by Academy staff and program partners attending training and education sessions, before being rewarded for their commitment to the Academy, and asked to participate in the various Captain's Class activities.
With further leadership skill development, including problem solving obstacle courses, promotional opportunities and special events on the horizon, all Academy athletes are encouraged to continue to seek out the opportunities their Academy can provide.
---END---