Academy Tri-athlete spreads her Wings!
Written on the 20 March 2017 by SWSAS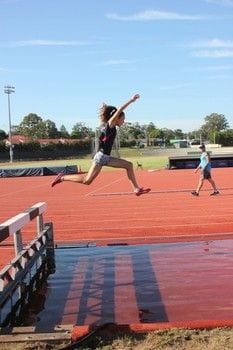 Ella Wooldridge, South West Sydney Academy of Sport (SWSAS) Tri-athlete takes flight in the 2 kilometre Steeplechase

Macarthur based, South West Sydney Academy of Sport athlete, 14yr old Ella Wooldridge is building on our region's outstanding reputation of producing high quality Triathletes.
Ella is currently enjoying a real 'purple patch' of form and it comes as no surprise that she is gaining high acclimation for her achievements.
In recent weeks Ella has won the 'Jackie Fairweather Memorial' Enticer Triathlon' in the open category, had an age group win at an Orange Triathlon club event and placed second in her age category at the Australian National Championships in the 2 kilometre Steeplechase event. Ella ran and jumped five laps of the Australian Institute of Sport steeplechase track, in Canberra, in a cracking 7min 22sec.
She was also very prominent at our region's Zone Athletics Carnival, held last weekend at the Campbelltown Sports Stadium, winning four races, running three personal bests, setting two zone records and running a National qualifier for the 1500m. This would be considered an excellent weekend's work, for any budding young athlete.
To cap off this impressive list of recent achievement's Ella was also awarded the prestigious Campbelltown Catholic Clubs 'Junior Sports Hotshot Award'.
Training with the SWSAS Triathlon squad under the guidance of head coach Guy Creber is really agreeing with Ella. Speaking with the Academy's sports program manager, James Watson it becomes clear where her success is coming from. Ella said, she just loves her sport and the Wooldridge's are a highly motivated family and the SWSAS squad is as dedicated as any squad you will ever come across.
She continued by saying the Academy atmosphere is supportive and also competitive, and the progress of its athletes across the whole squad is testimony to the environment provided.
Ella will need to keep at the on top of her form, as she has two younger sisters snapping at her heels. Erin is with her in SWSAS and Mia who is only 10 and described by Mr Watson as "a 'little dynamite'. is already showing excellent potential.
Watson was quoted saying, you will often hear athletes talk of 'sacrifices and hard work', but not here, these girls are dedicated, they get up early and put in big sessions, nevertheless they don't' see it as hard work, but fun and an opportunity to excel.
For more information about the Academy go to www.swsas.org.au or call 4627 7622.