Academy triathletes on the rise
Written on the 19 March 2019 by South West Voice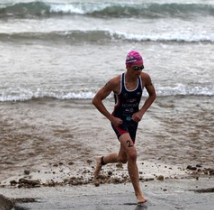 Guy Creber, one of two triathlon coaches at South West Sydney Academy of Sport, is excited about what's ahead for one of his charges, Madelyn Manny.
"She is an extremely dedicated athlete who set herself to be a quality triathlete. I can remember early in her development she was apprehensive and used to hang on to the back of her high performance team mates at training,'' said Creber, who is also the personal coach of the 15 year old rising star.
"A couple of years of grit and she is now becoming a high performance team member herself.
"She has the required attributes to do whatever she wants in this sport and it is up to her,'' Creber said.
"Best of all, she is a humble, respectful young lady fully supporting the very important squad culture that we have created within this group.
"And, she is having fun."
Madelyn, who hails from South Camden, is a third year academy scholarship holder in triathlon.
She capped off some great recent form with a fifth place at the recent NSW all-schools championships.
Madelyn has now earned automatic qualification for the all-schools nationals, to be held on Queensland's Sunshine Coast during the first week of May.
"I am really excited that I get to represent NSW at the nationals,'' Madelyn said.
The NSW all-schools championships were part of an action-packed couple of days for the youngster: immediately after that event she made her way directly to the annual Camden Council civic reception for South West Sydney Academy of Sport athletes who come from Camden.
The next day she boarded a plane, destination Devonport Tasmania, to race in the Triathlon Australia National Series, where she came a very creditable eighth in a field stacked with some of Australia's and New Zealand's best youth female triathletes.
And while Madelyn Manny is riding a wave of success, she's not the only South West Sydney Academy of Sport triathlete to shine.
Current scholarship holder Billy Zavetsanos is the NSW champion in the junior division after a dominating win at this event.
Graduates Caitlin Sendt, Cody Turner and Cody Salter will also be representing NSW on the national stage, while Bronte Clifford was very unlucky missing an auto-qualifier by just eight seconds.
Academy coaches Guy Creber and David Hine have performed a terrific job over a prolonged period, culminating in South West Sydney's prominence at this level.
For more information on how to be involved with academy triathlon contact James Watson on 4627 7622 or email james.watson@swsas.org.au or visit www.swsas.org.au