Academy Triathletes train with Worlds Best
Written on the 3 March 2016 by SWSAS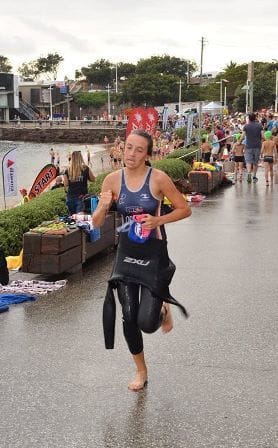 The month of January has been tough for the South West Sydney Academy of Sport triathlon squad, with squad members competing in a large number of high intensity training sessions and quality events.
Triathletes commenced January by competing in the Triathlon Australia AJTS Queensland Triathlon Series, labelled the 'strongest' junior race series in Australia, with triathletes coming away with a number of outstanding results.
Ella Wooldridge placed an outstanding 12th in the female ITU Youth event, recording the 5th fastest run split time. Academy teammate Cody Turner placed an excellent 23rd in the male ITU Youth race, with Tilly Offord placing 42nd and Jackson Gray placing 58th, in their respective ITU Junior races.
Following its series success, the triathlon squad went into camp at the Narrabeen Academy of Sport with fellow regional club mates from the local Macarthur Triathlon Club Juniors.
The triathletes' busy schedule continued with a trip to Canberra to participate in the Elite Energy Triathlon and not to be daunted also competed in a joint training session with the ACT Academy Juniors. Once back in Sydney the squad went through its paces with a skill development bike session at the Dun Gray Velodrome, Bass Hill.
The squad then attended a session with the Wollongong Wizards Club, which is considered to be the best triathlon squad in the world. Wizards coach Jamie Turner, who also coaches Australian triathlete Natalie Van Coevorden, ran the session and was pleased to impart his years of knowledge and experience to the squad.
To concluded an amazing month, the squad competed in the 2016 Wollongong Aquathlon, where Jackson Gray placed 11th closely followed by Dylan Offord 15th and Cody Turner 16th in their under 20's long course event . Matilda Offord placed 8th in the women's under 20's event, just ahead of squad mates Ella Wooldridge 10th and Aleesha Austin 13th place.
Thomas Hine placed 15th in the under 16's male short course aquathlon event, with Caitlin Sendt and Erin Wooldridge placing 2nd and 3rd in the under 16's women's aquathon.
Academy coach Guy Creber stated he was well pleased with his charges performance during January and he considers the outstanding work ethic demonstrated by all squad members will hold them in good stead for the March, NSW All Schools Championships.