AFL Program big success
Written on the 18 March 2015 by SWSAS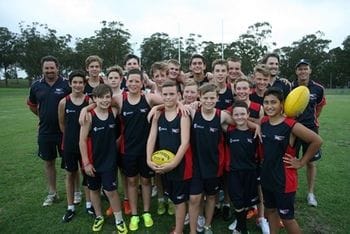 THE South West Sydney Academy of Sports AFL Community Development Program has been a big hit with players, coaches and parents alike, with the first '6 week season-block' proving a huge success on and off the field.
The Academy in conjunction with the Campbelltown Blues Australian Football Cub has just wrapped up the first part of the program, with athletes returning to their own clubs to commence club pre-season training. Athletes will return to the Academy in October for 'block two' of their training, which is designed to prepare players for the GWS Giants Academy development pathway.
The Academy program was designed to include high performance training opportunities for talented young athletes solely in the South West Sydney region, in the areas of technical skill, sports education and personal development in the preparation of athletes for the next level of elite sport representation.
Academy sports program manager Sarah Shehata said the response to the program has been phenomenal with fantastic feedback coming from the coaching staff who can see a noticeable improvement in each athletes performance.
Twenty two of the Academy's AFL athletes will put their skills to the test when they compete at the upcoming ClubsNSW Academy Games to be held across the Central Coast, in April.
The athletes will come up against strong AFL opposition in the form of the Western Sydney Academy of Sport, the Northern Inlands Academy of Sport, as well as the Central Coast Academy of Sport.