AFL Shaping to Kick Goals into 2023
Written on the 4 November 2022 by SWSAS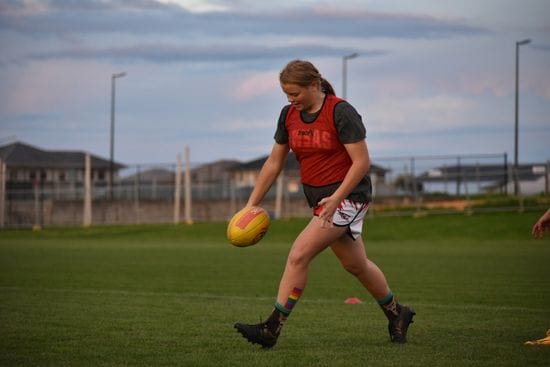 Bridget Saunders shapes to pick up the ball for a kick during The Mac AFLW Squad trials held in late October.
As the AFLW National competition heads towards its highly anticipated Finals series, albeit without a Sydney team competing, the South West Sydney Academy of Sport has recently announced its next group of up and coming AFLW squad athletes, who are proudly supported by The Mac Credit Union.
Following a successful trials process held in late October, the Academy has named 15 young females who will undertake a solid six-month program to not only develop their individual AFL match-play skills, but develop themselves as athletes and community citizens off the field as well.

Regarded AFLW coach Ben Robinson leads the Academy program for a second consecutive year. Alongside Robinson include assistant coaches Adam Sheldon and George Hannaoui, with former Academy athlete Annalysse Stevens joining the squad. Stevens bringing with her a wealth of knowledge from being a part of the 'next level' in the pathway, having been a part of the GWS Academy program.
"We are excited by the year ahead for our 'The Mac' AFLW program," said Academy Sport Operations Manager Stephen Craig, "We have a great young group of athletes coming on board, and a strong coaching staff whose aim is to develop these athletes to experience the next step in their AFLW journey."
"The purpose of all twelve of the Academy's current sport programs is not on competing in regular season competitions as a club or association program, but in assisting the talented athletes within our region to progress to the next level," said Craig, who added that this is done in part by providing the additional training and off-field support that some clubs within the region do not have the time or resources to provide as a part of a regular season competition.
The Academy programs feature not only a large amount of on-field training, but a large number of athlete targeted sports education sessions in areas from sports psychology and nutrition, to sport integrity and athlete financial fitness, one topic that the AFLW program partners 'The Mac' are well experienced with.
"This year we are including a focus on teaching the athletes correct techniques within strength and conditioning programs, and coming out of the COVID interrupted years, are including a high degree of athlete wellbeing and support programs such as social media awareness, self-image and branding, which all together are designed to develop the holistic athlete," said Craig.
"At the end of the day, across our entire South West Sydney region, our aim is to develop these quality young athletes who will get to experience an all-round development at a level above their local team, and either have the chance to go on and be a part of the GWS and AFLW pathways, or at the least, head back to their local clubs primed for their competition season, and ready to be the best athlete they can be on and off the field." said Craig.
The Mac AFLW Squad commence their training program in mid-November, with a key highlight of their program being the now-annual trip to the Queanbeyan Tigers in early February, where the squad participate in a weekend of training and performance opportunities alongside the Tigers emerging AFLW juniors' program.
"The 'Tigers' weekend has been a key highlight of the program over the past two years, and we are excited by the opportunity to extend this year's event to an entire weekend, which will allow the squad more training time alongside the Tigers highly respected regional AFLW program." said Craig.
The 2022-2023 The Mac South West Sydney Academy of Sport AFLW Squad includes; Holley Alloggia (Liverpool), Susannah Cameron (Wollondilly), Victoria Galualii (Campbelltown), Ava Hilton (Wollondilly), Tarra Hine (Liverpool), Breanna Kelly (Campbelltown), Chloe McEwan (Camden), Tia Neave (Camden), Alexis Paulo (Campbelltown), Marley Rhodes (Liverpool), Addison Riley (Camden), Ayva Robinson (Wollondilly), Bridget Saunders (Campbelltown), Isabella Stead (Camden) and Brea Trevitt (Liverpool).
For more information on the South West Sydney Academy of Sport, please visit www.swsas.org.au or email sport@swsas.org.au .