AFLW Kicks Goal in 2021
Written on the 15 January 2021 by South West Voice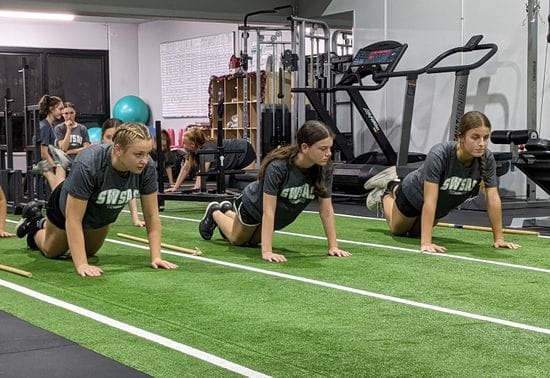 After a year of sports turmoil and disappointment due to the Covid-19 pandemic, the South West Sydney Academy of Sport was excited to announce its squad of athletes who have been selected into the 2021 SWSAS AFL Women's U14 and U16 program.
Five U19 AFLW athletes have also been inducted into the academy's Wests Future Stars program, allowing these athletes continued access to the AFL development pathway.
The academy this week has also announced the inclusion of three new coaching staff members, headlined by former Sydney Swans squad member Darren White, along with up and coming coaches in George Hannaoui and Ben Robinson.
The 2021 Academy AFLW U14 and U16 Squad includes; Alexis Paulo (Campbelltown), Annabelle McHale (Campbelltown), Ayva Robinson (Wollondilly), Brea Trevitt (Liverpool), Breana Steele (Liverpool), Breanna Cunningham (Campbelltown), Bridie Kinchin (Wollondilly), Bronte Mowbray (Campbelltown), Brooke Cutler (Liverpool), Charlie Mitchell (Camden), Emerson Argo (Camden), Emily Mitchell (Camden), Emma Ciscato (Camden), Hailee Meurant (Wollondilly), Jasmine McAllister (Camden), Luca Williams (Camden), Maiya-Lily Cole (Campbelltown), Samantha Sutton (Liverpool), Skyla Seal (Camden), Tahlia Yule (Campbelltown), Taylah Norris (Camden), Victoria Loi Galualli (Campbelltown).
"With a change in structure in the AFL NSW/ACT and GWS Giants development programs during late 2020, we have been able to include U14 athletes within our program", says acting sports program manager Daniel Currinckx.
The inclusion of the younger age group completed the link between the academy's Macarthur Credit Union AFL Development program and the ALFW program.
"Given the restructures of the development pathways at GWS, what would be our traditional U19s program is now serviced more directly by the Giants,'' says Currinckx.
"SWSAS however is still able to service our region's athlete's development through its Future Stars athlete program sponsored by Wests Leagues Club Campbelltown, which gives them access to additional strength and conditioning and athlete education services within the Academy program.''
Dakota Cunningham (Campbelltown), Jessica Whelan (Campbelltown), Grace Cremen (Camden), Annalysse Stevens (Wollondilly) and Brodee Mowbray (Campbelltown) join the Wests Future Stars program as AFLW U19 athletes.
In an effort to provide an additional pathway opportunity the academy is hopeful of being in a position to add additional U19 athletes throughout the early part of 2021 as GWS finalise their own development programs.
All athletes within the AFLW program undertook a series of fitness testing protocols as a part of their trials process, along with an introductory strength and conditioning program prior to Christmas, in the lead up to an on-field skills development program which kicked off in February.
The squad will also undertake a day-camp scheduled for mid-March where the AFLW program will tour the Queanbeyan Tigers AFL grounds and facilities, and train with guest coaches from the Tigers.
"The qualifications and knowledge of academy staff, along with strength and conditioning coaches, allows the academy to implement similar combine testing protocols used by the AFL,'' Currinckx said.
"This helps prepare our athletes for what they may experience later in their AFLW careers.
"By exposing our athletes to sports specific fitness, strength and conditioning, skill development and athlete education early in their careers, it will assist them not only become better athletes at their local clubs, but also help them aim higher, and placing them in selectors' sights for future years."
At the academy induction night, held in late November, a trivia quiz identified that nearly three-quarters of the athletes were able to identify former SWSAS netball athlete Ashleigh Brazill, who is a member of the Collingwood AFLW program.
"Hopefully in the future we will see more former SWSAS athletes, such as these young ladies within the academy 2021 AFLW program feature in professional AFLW squads," Currinckx said.