All systems 'Go' for Academy Triathlon program start
Written on the 28 August 2014 by SWSAS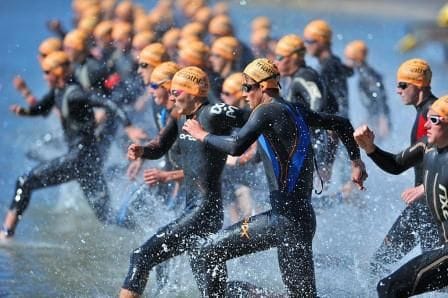 The South West Sydney Academy of Sport continues to expand it opportunities for talented young athletes, from south-west Sydney to participate in high performance programs; and is accepting scholarship nominations for its newest program, the sport of Triathlon.
The Academy has developed its Triathlon program in association with Triathlon NSW, and the program is open to all female and male athletes who fulfil its criteria. Athletes' do not have to be currently engaged in Triathlon to nominate for the program's selection trials, but a strong performance in one of Triathlon's three disciplines swim, bike, run, are encouraged to apply.
A compulsory assessment trail session for all nominees will be held from 2:00pm to 4:00pm on Sunday 31 August 2014, at the Macquarie Fields Leisure Centre, Fields Road, Macquarie Fields.
To be eligible to trial athletes must be aged between 12 and 17 years at 31st December and attending high school in 2014. Athletes must also reside, or attend school, or compete for an affiliate sporting club within the defined local Council boundaries of Campbelltown, Camden, Liverpool and Wollondilly.
As with all Academy sports programs, athletes must be committed to progressing to higher representation within their sport. Following successful selection, membership of the sports peak organisation Triathlon Australia/Triathlon NSW and a local Triathlon club will be required in order to gain an Academy scholarship and compete in sanctioned events.
Scholarships are not in the form of a monetary sum, but rather enable athletes to participate in the Academy program that includes sports specific training, education workshops, camps and events and competition opportunities. The program provides access to high-level coaching, analysis of technique, sports science testing, and a range of athlete appropriate education workshops such as sport psychology, nutrition, and drugs in sport awareness, plus media training.
Training sessions will generally be held throughout the Academy region. Triathlon and "individual sports discipline" events will be selected to best suit the current development level of athletes, and may include events scheduled against other NSW Regional Academies of Sport. There may also be the opportunity to participate in the NSW Regional Academies' of Sport ClubsNSW Academy Games.
The number of athletes selected will be determined following the assessment day and be dependent on the number and standard of nominations.
An affiliation levy of $360.00 will be applicable to all successful athletes. A uniform including a hoodie, polo shirt, training shorts, training shirt, tri-suit, swim cap and hat will be provided as part of the overall program. The Triathlon Program may participate in additional agreed activities over and above the designated program of events, whereby an additional athlete cost may be incurred.
Nominations must be submitted by Monday 25 August on the official nomination form obtained from the Academy's offices, or downloaded from the Academy's website www.swsas.com.au
For information on Triathlon, or any other Academy 2014/2015 program nomination, contact the Academy on 4627 7622, or gerry.knights@swsas.org.au