Amazing 2022 Academy Representative Success Continues
Written on the 13 July 2022 by SWSAS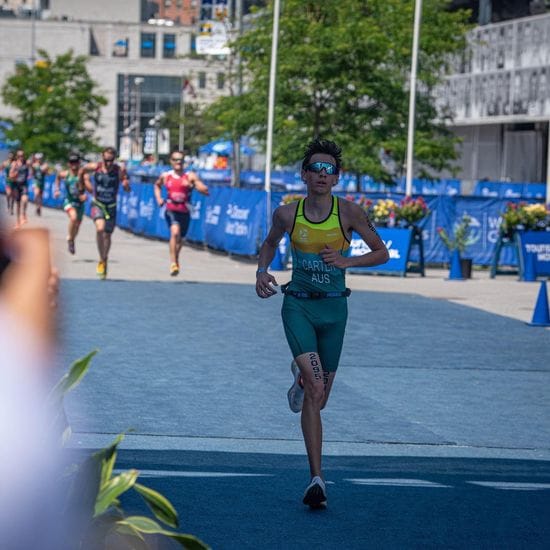 After the past two years of interruptions, whether through COVID or flooded playing fields, the resilience and commitment to success, by of South West Sydney athletes during that period, has definitely shone through.
None more so than in the past few weeks, with a large contingent of our own current and alumni Academy athletes, returning not only to the sport they love in their local environment, but relishing the opportunity to represent Australia, on the World stage.
Continuing on from the amazing representative team selection success of its Hockey program athletes; representative success continued on in to the final weeks in June.

When Academy Triathlete Ryan Carter competed at his first World Triathlon Sprint and Relay Championships held in Montreal, Canada. Where he finished in 26th place, in the 16-19yr age group, amongst an incredibly talented World class field.
"My race didn't exactly go to plan, having to fight cramps in the second transition, but I still managed to finish strong," Carter said. Adding. "It was a humbling, and an awesome experience to compete in the Green and Gold.
I have learnt so much from this event and being able to rub shoulders with the best triathletes in the World." An experience in itself that Carter hopes will lead to more success in the future.
Sentiments echoed by West's Future Star's program Decathlete Thomas Noakes, who competed at the Pacific Mini Games, held on the USA Commonwealth Pacific Island of Saipan, over the same period.
The efforts of Ryan Carter and Thomas Noakes were added too, by the selection of three graduate Softball athletes, with Chantelle Ladner selected into the Aussie Spirit side, which finished equal 7th at the Canada Cup, whilst Madi Baker and Mia Gilmore finished a credible 11th out of 40 competing teams with the Aussie Development side.
Ladner continuing her international representation journey with the Aussie Spirit Team, which is currently competing at the World Games, in Birmingham, USA.
Ladner however will not be the only former Academy athlete to get familiar with Birmingham, albeit in the United Kingdom. With past Academy Hockey athlete Courtney Schonell who, along with former Academy Netballer Ashleigh Brazill, will be hunting for Gold with the Australian Hockeyroos and Diamonds, respectively.
Whilst Brazill is no stranger to representing Australia, both her and Schonell will wear the Australian uniform for the first time at a Commonwealth Games.
"It has been a long wait for Ash," said Academy Operations and Media Coordinator Stephen Craig, commenting that Brazill, who competes for Collingwood in both the Super Netball League, and AFLW, is one of the most recognised and respected former athletes to come through the Academy. "Ash is a true inspiration for many young female athletes in our region." "Such a large number of the Academy's current athletes in both our Netball and AFL Women's programs continually mention her as their biggest sporting influence."
"We as an Academy are so proud, as I am sure the whole of South West Sydney is, that Ash finally has made the Commonwealth Games team, after dealing with so many setbacks and challenges along the way." Said Craig.
Whilst it may seem only fair that the Academy is in the pathway to feed future Australian teams, with the Victoria 2026 Commonwealth Games and the Brisbane 2032 Olympic and Paralympic Games firmly on the radar, it is not just the green and gold that Academy athletes are finding themselves gaining the opportunity to wear.
"South West Sydney has a large Pacific Nation representation living within our region, so it seemed only a matter of time before we saw athletes from within our Academy represent emerging Pacific Nations, on the Commonwealth and Olympic stage," said Craig.
Who recognised that one of the region's household names in Rugby League star David Nofoaluma, himself a former Academy athlete, recently dominated in Samoa's win over the Cook Islands during the Pacific Rugby League's Polynesian Cup, in Campbelltown.
And recent Basketball graduate Sienna Tutani, representing Samoa as a member of the Samoan U17 Girls team, which was successful in winning the Division B of the FIBA Asian Championships.
It has indeed been a busy, but extraordinarily successful few months for the South West Sydney Academy of Sport. And it is this, along with the success of all 2021-2022 sport programs, that the Academy will celebrate in two weeks' time, at its 25th Anniversary and Graduation Dinner. To be held on Friday 29 July at, 'The CUBE' Convention and Entertainment Centre, Campbelltown. An event not to be missed.
For more information about the South West Sydney Academy of Sport, or its 25th Anniversary Celebrations, please visit swsas.org.au or email sport@swsas.org.au.
---END---