Amazing Athlete recognised as one of Australia's Best
Written on the 4 November 2016 by SWSAS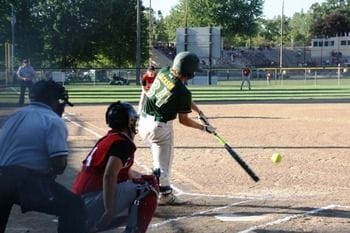 Outstanding young local Softballer Blake Jackson was 'half a world' away when he was proclaimed the joint winner of the South West Sydney Academy of Sport 'athlete of the year', at the Academy's 2016 graduation and sports awards gala dinner.
Jackson was proudly sporting the 'green and gold' of Australia against the world's best, as part of the U19 Australian team. Although nearly a full age group younger than his piers Jackson left nothing in the bag, with many great personal performances and staked himself as a rising star of the sport.
The 17 year old exceeded all expectations with his selection for the World Championship U19 Junior 'Steeler's' Team, for Midland Michigan USA, and did our region proud.
"It has always been a dream of mine to represent my country. I had a goal to make the 2018 team but it came early and it feels incredible to see all that hard work pays off" he said.
Jackson has just completed his third year as a South West Sydney Academy of Sport athlete and after 6 weeks' on tour, is now studying hard for his upcoming HSC exams.
Jackson said he was thankful for the support provided by the Academy and his local and State coaches and said he could not have done it without their help and guidance.
Outside of Softball, Jackson has also completed Bronze, Silver and Gold Awards in the highly regarded Duke of Edinburgh program. Jackson is definitely working to be a holistic athlete.
The Academy Softball Program is also making some big moves in the younger age groups with 10 current athletes being offered places in U17 NSW squads.
Jorja Barrett, Breanna Evans and Samantha Glover have made the women's squad with Luke Bellamy, Logan Campbell, Jack Morel, Harrison Pudner, Zac Raso, Brady Shears, Lachlan Smith taking up 7 out of the 16 spaces offered in the men's squad, with Academy coach Tony Jackson taking on an Assistant Coach role for the men's squad.
Academy executive director Gerry knights said, the Tokyo 2020 Olympic Games is not a dream to far away for many dedicated local athletes and the chance to compete on the world's greatest sporting stage is more than a sufficient incentive to inspire them to achieve their best in their chosen sport.
The return of Softball as an Olympic sport is seen as real opportunity for current and past Academy athletes to shine, with many past Academy female and male athletes already in Australian, and Australian age category teams.
"We are excited to see the success of many years of hard work invested by our coaching staff, into these young athletes is really paying off in a big way", said Knights.