Amazing Athletes recognised at 'Academy of Sport' awards
Written on the 24 August 2016 by SWSAS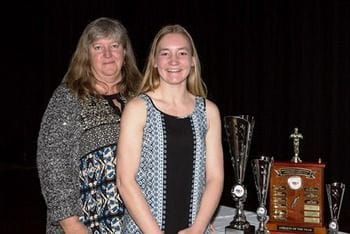 The South West Sydney Academy of Sport graduation and sports awards dinner was again the local gala sports event of the year. The Cube, Campbelltown was over flowing with high profile sporting guests, including some of Australia's champion athletes, sporting group CEO's, politicians and local government representatives.
These leaders in sport were in town to witness the outstanding achievements of our regions most talented young Academy athletes. The presentation dinner, was an inspirational experience of sporting glories and messages from a 'who's-who' of Australia's finest National and International heroes. The common theme of the evening was the current 2016 Olympic Games and that 'you can only realise high level sporting achievement through commitment and hard work'.
Local Camden MP Chris Patterson represented the NSW Minister for Sport and spoke enthusiastically about the important role of the Academy to our region and congratulated its athletes and it's 70 plus volunteers coaching and support staff members. Patterson also took the time to commend the supportive efforts of all parents associated with the Academy.
The highlight of the evening was the naming of the Academy 2016 'Athlete of the Year' and Academy Chairperson Mr Peter Campbell was quick to inform all in attendance that selecting the award winner was a very difficult decision, hotly contested by many fine, young, athletes boasting excellent athletic achievement in their given sport.
Campbell then announced Jessica Cronje and Blake Jackson as the joint 2016 Campbelltown Catholic Club 'Athlete of the Year' and 2016 SOUTH32 Illawarra Coal 'Chairperson' award winners of the year.
The highly delighted chairperson said, when he looked around the room and heard firsthand the achievements of so many fine athletes, he recognised the calibre of the selected Chairperson Award nominees. And, the joint winners of these awards are athletes, whose commitment, and personal discipline to improvement is over and above that of most athletes, of their age.
He went on to say they are outstanding athletes in their respective sports and have the respect of all involved with the Academy, from its coaching staff to fellow athletes. And, have already displayed their high level of sporting prowess through their individual National level representation.
A cavalcade of sports presenters including Wests Tigers local heroes John Skandalis, and Shaun Spence, Olympic Games marathoner Jeff Hunt, triple World Champion middle weight boxing champion Daniel Geale, triathlon's Guy Creber, Netball NSW's Alison Miller and CEO's David Trodden NSWRL and David Thompson Hockey NSW kept the sporting entertainment flowing.
Award Winners
Coaches Award
AFL
Boy: Blake Jedrzejewski
Girl: Margot Vella & Jacqueline Gay
Basketball
Boy: John Dao
Girl: Madeline Di Mauro
Golf
Joshua Battle
Softball
Boy: Brady Shears
Girl: Breanna Evans
Tenpin Bowling
Junior: Samuel Blake
Youth: Nathan Hayward
Netball
Girl: Caitlin Porter
Umpires Award: Sarah McNamara
Development Rugby League U14
Boy: Braden Leigh
Development Rugby League U15
Boy: Rick Thorn
Harold Matthews RL
Paul Anamani
Will Angel
Steven Dengate
Ismail El Omar
Logan Hayden
Jack Highgate
Aqeel Moosa
Daniel Payne
Alfie Tropea
Jim Medway Memorial Trophy Rugby League
Logan Hayden
Triathlon
Boy: Cody Turner
Girl: Matilda Offord
Hockey
Boy: Matthew Vine
Girl: Aimee Watkins
Clive Graham Award Lone Star
Brodie Heinecke
Clive Graham Award Lone Star AWD
Jessica Cronje
Coaches Service Award
Bronze 3 years
- Jocelyn Odewahn
- Julie Martin
- Tenille Peronis
- Sandra Hadley
- Elizabeth Callaghan
Gold 7 years
- Leanne Andaloro
Chairperson Award Nominees

Nathanael Taylor- AFL
Yulika Stratti- Basketball
Tim Ryan- Golf
Alfie Tropea- Harold Matthew Rugby League
Alycia Russell- Hockey
Jessica Cronje- Lone Star
Catherine Tevaga- Netball
Blake Jackson- Softball
Brandon Wilshaw- Ten Pin Bowling
Ella Wooldridge- Triathlon
Chairperson Award Winners
Jessica Cronje and Blake Jackson