Amazing Response to SWSAS Rugby League Development Trials
Written on the 2 December 2015 by SWSAS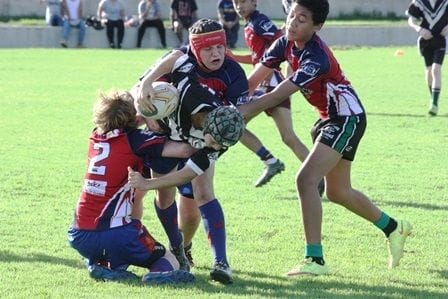 Statements regarding the demise of junior rugby league in Sydney's south west were not on the agenda, at the South West Sydney Academy of Sport junior rugby league trials.
Recently Benham Reserve, Minto was a scene reminiscent of grand final day with a huge crowd and often vocal crowd on hand to watch over 200 talent identified young players' trialling for the South West Sydney Academy of Sport under 14 and under 15 summer development squads.
Local clubs had the opportunity to identify their top 10 players in each age group to attend the trials, with the Academy inducting the top 30 players in each age group, into its development program.
Wests Tigers recruitment manager Warren McDonnell lead a selection panel, representative of the Wests Magpies, Western Suburbs District junior rugby league and the SWSAS Head coach; with final selections being made following video analysis of the evenings 5 games.
Academy executive director Gerry Knights said, the continued support provided to the Academy by the NSW Rugby League and Wests Tigers was exceptional.
And, on the night the assistance of the home club the Minto Cobras, the selection panel, SWSAS staff and the five attending NRL development officers was outstanding; and although large in number, the trials went off without a hitch.
He was also pleased to see the Wests Tigers newly appointed NRL football operations manager Tyrone Collins in attendance, and praised the club for his appointment as a man passionate for the area and the game.
Knights continued by saying, hopefully we can find another local Jarryd Hayne or Israel Folau, who may take his first representative steps through programs such as the Academy's summer development program, and move through local representative teams to the world stage.
When asked his thoughts on the state of the game locally, Knights stated in his opinion the junior game was in very good hands with Group 6 junior rugby league thriving due to its very competent Board and junior representative program strategy.