Another Sponsorship Goal for Academy Netball Stars
Written on the 27 March 2018 by SWSAS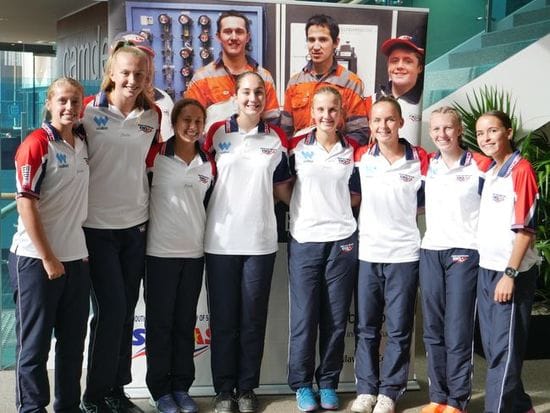 Gerry Knights, the Executive Director for the South West Sydney Academy of Sport (SWSAS) is proud to announce that the Walker Corporation has joined forces to sponsor the Academy's Netball program.
Mr. Knights says, "The Walker Corporation has a long and proud history of community citizenship and is an excellent fit for the Academy.
The Academy netball program is provided in partnership with Netball NSW and is the direct pathway to NSW representation for our local athletes.
With Walker Corporation on board supporting our netball athletes, SWSAS can provide improved program support for education and skills development, travel and accommodation to major events, new equipment and uniforms".
Gerry Beasley, Executive Planner from Walker Corporation, said, "We pride ourselves in supporting the communities we operate within.
Having been in the region of South West Sydney for close to a decade, delivering new housing, community facilities and amenities, we have worked closely with the community and many local groups over this period.
"Local sporting and community sponsorships such as this are invaluable in ensuring opportunities for the next generation. We are proud sponsors of the SWSAS Netball Academy and hope that our contribution supports them in achieving their goals, we wish them all the best for the year ahead".
Having Walker Corporation on board as a sponsor has enabled the Academy's athletes and coaching and support staff team to focus heavily on their performance management and improvement of their skills and techniques.
Head coach of Academy netball, Van Nguyen, says "It's fantastic to have the Walker Corporation come on board to sponsor the netball program. Support like this allows us to expose our future elite athletes to high performing environments, without having to leave their families, schools and friends."
Nguyen also states, "It gives us the opportunity to include high quality invitational coaches and draw from the very 'best in our business' to guide and develop our region's gifted athletes.
The ongoing support of the Walker Corporation will also provide opportunities for athletes to access some of NSW finest sporting development facilities.
Such as attending Netball NSW High Performance Camps, a Canberra development tour, including the Australian Institute of Sports (AIS), as well as matching up against ACT Academy teams.
For more information regarding the Academy or its programs call (02) 4627 7622, or email james.watson@swsas.org.au