Basketball Slam Dunks 2021
Written on the 9 March 2021 by SWSAS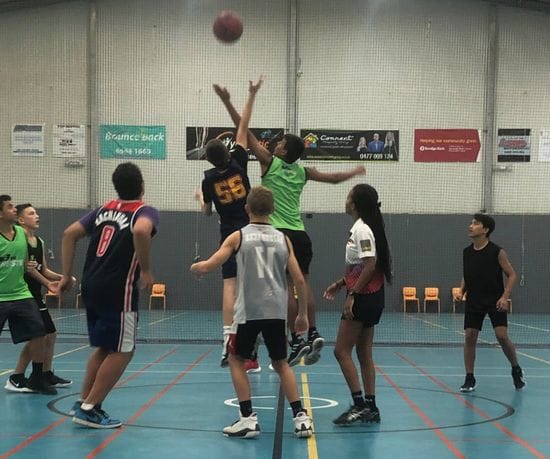 After an inability to conduct a basketball program in 2020 due to the Covid-19 pandemic, the South West Sydney Academy of Sport is excited to announce the selection of twenty-eight male and female athletes in its reinvigorated 2021 basketball program that tipped off in early March.
Former SWSAS basketball athlete, and current Illawarra Hawks junior coach Mekdes Geist headlines the programs coaching staff, along with former Macarthur Heat player, now coach at Wollondilly basketball, Grant Smith.
"Basketball NSW identified late last year that the higher level of development athletes in the metro region were being taken care of by their own high-performance programs.
However, the Academy recognised that there was an outstanding local interest in the Academy to provide an underpinning basketball program, suitable for the level of competition associations within our region compete in.
To support this need, a framework for the program was adapted to complement the developing requirements of our regions athletes and to increase their knowledge and exposure to the next level.
This was done In an effort to see athletes achieving selection NSW high performance pathway teams," said Academy sports administration officer and highly experienced basketball coach in his own right, Stephen Craig.
Craig said, "By focusing on the development of athletes in areas such as 3x3 skills and working alongside association representative training programs, will ensure as few program date clashes as possible, thereby allowing Academy athletes to experience the high-quality development opportunities, that much larger metro associations are provided".
The Academy has moved to a longer time-frame program, with a focus on teaching individual and team skills, along with strength and conditioning, recovery techniques and vital sports education, for 2021.
This has been developed to continue to upskill and develop holistic athletes, rather than just a weekly on-court training regime. The response so far has been positive, as it allows athletes to focus on their weekly representative commitments, as well as additional opportunities the Academy provides.
Of the twenty-eight athletes who successfully gained a position within the Academy, a record eleven athletes are from the emerging Wollondilly Razorbacks Basketball Association, which presently competes in the Barrengarry Development Conference.
An excited Wollondilly Razorbacks Chairperson Mick Hendricks said, "It is our goal to build towards competing in the Southern Junior League alongside the larger NSW Country clubs like Goulburn and Illawarra.
And the support of having our athletes exposed to a quality program such as the South West Sydney Academy of Sport basketball program will definitely assist in the ongoing development of our young athletes."
Athletes selected into the 2021 program include; Adam Prasad (Campbelltown), Aiden Nguyen (Liverpool), Antonio Zammit (Liverpool), Azor Ruiz (Campbelltown), Benji Vitangcol (Liverpool), Cooper Hardman (Wollondilly), Cory White (Liverpool), Dylan Sharp (Camden), Jimmy Tzortzis (Wollondilly), Kaiser Tat (Liverpool), Keenan Font (Camden), Kingston Tutani (Camden), Kyan Wilton (Camden), Levi Edwards (Wollondilly), Liam Gechevski (Wollondilly), Nathan Strode (Wollondilly), Alyssa Nguyen (Liverpool), Brooke Lawrence (Wollondilly), Danielle Campos (Camden), Elise Smith (Wollondilly), Isabella-Grace Marshall (Wollondilly), Isabelle Stevens (Campbelltown), Jade Debrowski (Wollondilly), Jessica Austin (Wollondilly), Jessica Fuimara (Wollondilly), Kira-May Filemu (Liverpool), Lelani Filemu (Liverpool) and Monique Campos (Camden).
The Academy Basketball squad will compete at the 'Your Local Club' Academy Games competition in April, with the program then continuing its development sessions on basketball fundamentals and the increasingly popular 3x3 style of the game, before concluding the 2021 program by hosting an Invitational 3x3 tournament in July.
The overall Academy sports program is supported by SOUTH32 Illawarra Coal. And the opportunity to be the Academy's basketball program sponsor is still available.