Basketball Slam Dunks Christmas Appeal
Written on the 23 December 2021 by SWSAS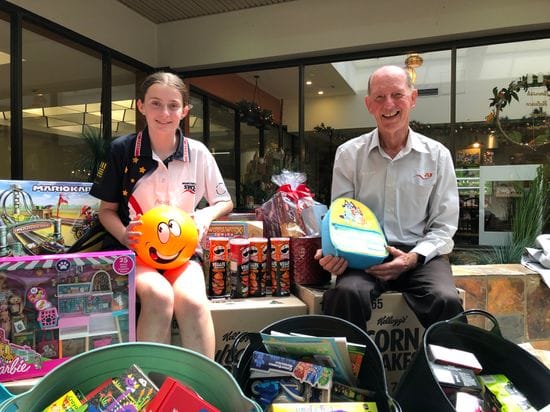 Emily Paulic with CEO Gerry Knights delivering gifts from the Academy Basketball squad to the Campbelltown Mayor's Christmas Appeal.
South West Sydney Academy of Sport Basketball Athlete Emily Paulic had one goal, to help one family this Christmas. The end result however, was far greater, with the Academy's basketball squad donating seven large tubs of toys and food to the Campbelltown Mayor's Annual Christmas Appeal this week.
When 13-year-old and first-year basketball athlete, Emily approached Academy staff during the squad's induction and asked if the basketball squad could participate in a toy or food drive for Christmas, Program Head Coach and the Academy's Operations and Media Coordinator Stephen Craig jumped at the chance. However as Christmas was fast approaching, the squad had less than two weeks to fulfil Emily's vision to further promote the community service element of each Academy sport program.
With Emily taking charge, from designing the poster to give to her fellow squad members, arranging the collection point during the squads final training session a week out from Christmas, and encouraging her fellow squad members to 'donate if they could'.
"I had a goal to help out one family, but thanks to the generosity from my team mates, we as a squad have been able to hopefully help many families" said Emily.
"For a young athlete to come up with an idea to help the community, putting her team and others ahead of herself and to act on that idea with such vigour is commendable." "We promote Opportunity and Respect as a part of our key values, so for Emily to take on that opportunity to show the respect for and to help our local community and the Mayor's Christmas Appeal, and after such a tough COVID hit year makes us so proud of her and our entire basketball squad." Said Craig, who mentioned that plans were already being discussed for Christmas 2022.
---
The Academy wishes all it's Athletes, Coaching and Support Staff, Parents, Partners, Volunteers, Friends and Family a great Christmas and New Years Break.
The Academy is closed from Friday 24th December, re-opening Monday 17th January 2022.