Big future in the distance for this throwing athlete
Written on the 6 June 2019 by SWSAS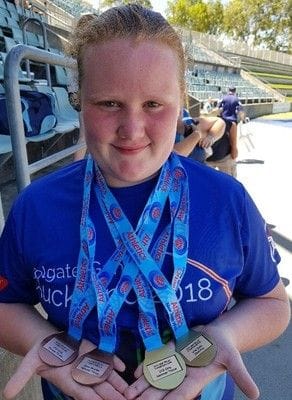 South West Sydney Academy of Sport through its Wests Future Stars program is pleased to announce the commencement of an athlete scholarship, for Oran Park athlete Amelia Morgan.
Amelia represents Campbelltown Collegians Athletics Club in both little and senior athletics, specialising in shotput, discus and hammer throw.
At only 13 years of age, Amelia has represented NSW on five occasions, including a 14-day tour of New Zealand.
Amelia had an amazing 2018, placing 3rd in the U/14 Hammer Throw at the All School National Championships. As well as placing 2nd at both the NSW All School Championships and Athletics Australia National Junior Championships, in the same event.
Things didn't really slow down for her heading into 2019, placing 2nd in the U/15 NSW Junior Championships, as well placing 3rd in both the shotput and discus events at the Little Athletics Regional Championships.
The young star radiates passion for her sport, stating "I love doing what I do. When I go out onto the field to compete, I don't think about winning, I think of how proud my family and friends are, watching me compete and achieve my best".
The SWSAS Wests Future Stars program will aide Amelia on her sporting journey, by providing her the opportunity to further develop her skills, as both an athlete and a future leader. Amelia is very excited about her opportunity to join the Academy, saying "I'm so thankful to be selected to join the South West Sydney Academy of Sport. I can't wait to start. I will do my absolute most to represent the Academy, my country, state and club with the highest of integrity and respect".
Amelia is a welcome addition to the SWSAS Wests Future Stars Program. Her dedication, humility and passion for her sport will result in an exciting future, for her. Be sure to keep up with Amelias journey with SWSAS and the Wests Future Stars program by following SWSAS on social media (Facebook, Instagram) and checking out its website https://www.swsas.org.au/
For information about the SWSAS Wests Future Stars Scholarship Program contact Academy Sports Program Manager, James Watson on 02 46 277 622, or james@swsas.org.au