BMX Sprints to State Titles
Written on the 3 December 2021 by SWSAS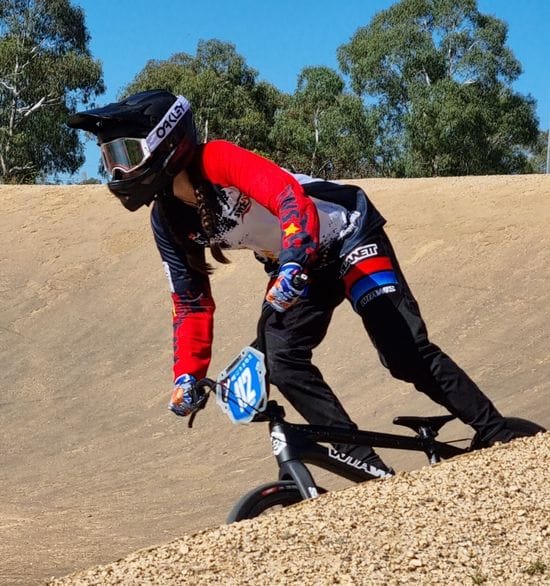 The South West Sydney Academy of Sport BMX squad found themselves finally back on track over the last weekend in November, with ten athletes and three coaches competing at the NSW BMX State Titles. Held on a cold, wet and windy track in the Hawkesbury, the Academy BMX squad, of whom the majority also represent Macarthur BMX, finished with an amazing tally of results across the weekend.
"All the Academy riders rode extremely well in the wet weather conditions" said Head Coach Cara Wilde. "Jayden Morris, Bianca Moubarak and Jack Young were fortunate in securing their first state plates ever, whilst Violet Dutko and Ireland Gerhard picked up the 'skinny digit' in their retrospective classes." said Wilde.
The skinny digit a cheeky reference to finishing first in their class, allowing the athletes to display the #1 on their plate for the year ahead, With Dutko (Pictured above) taking home first place in the 14 Girls and Junior Superclass Women category. Gerard was successful in winning the 16 Girls 20" category.
Other State title success for the Academy program include Kayden Murphy taking out second in the 16 Boys 20" category, Head Coach Cara Wilde claiming second in both the 20" and 24" 17-34yr Female class, whilst Assistant Coach Dan Morris took home the State Title in the 24" 17-24yrs Men's category.
"It was great to watch the athletes lean on each other throughout racing and preparation" said Wilde, commenting that whilst some even competed against each other or against the coaching staff, that all Academy athletes stuck together in true squad fashion. "The athletes should be extremely proud of themselves and how they rode on the weekend. It was great to see the athletes push hard and work together to achieve their best results".
After what seemed an eternity of a break with COVID lockdowns and postponements in championships, the BMX squad enjoyed their first session back prior to the NSW State Titles, with a test-ride day at the Hawkesbury track, and it definitely helped the Academy squad achieve success for not only themselves, but for their home club and the Academy program as well.
"Out of our 10 athletes, we saw 12 x top eight finishes, giving those riders the option of riding with their new state ranking on their plate. Of those 12 finalists, four of them were podiums, with three standing on the top step. Overall it was a great way to finish the year, showing all of the hard work the athletes put in had paid off." Said Assistant Coach Dan Morris.
The State Titles concluded the 2021 SWSAS BMX Program, with the 2022 program due to start riding just prior to Christmas.
Full results from Competing SWSAS Athletes and coaching staff include:
Bianca Moubarak: 24" 17-39 Women - 6th
Ireland Gerhard: 20" 16 Girls - 1st
Haylee Morris: 20" 15 Girls - 4th
Jayden Morris: 24" 17-24 Men - 4th & 20" 17-24 Men - 7th
Kayden Murphy: Junior Superclass - 6th & 20" 16 boys 2nd
Clay Johnson: 20" 15 Boys - 5th
Rory Southwell: Superclass - 5th
Ethan Moubarak: 20" 17-24 Men - 19th
Jack Young: 14 Boys - 4th
Violet Dutko: Junior Superclass Women - 1st & 14 Girls - 1st
Jye Furner: Superclass - 6th
Daniel Morris: 20" 17-24 Men - 3rd & 24" 17-24 Men - 1st
Cara Wilde: 24" 17-34 - 2nd & 20" 17-39 - 2nd
For more information on the South West Sydney Academy of Sport, head to www.swsas.org.au or phone 02 4627 7622.