Bright Future for Local Track Star
Written on the 19 July 2018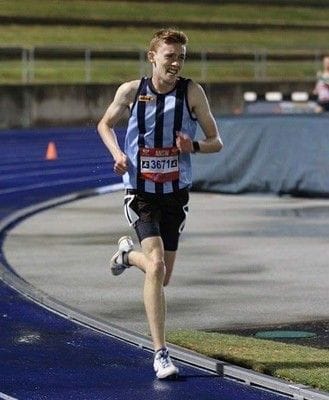 Baker pushed through on route to victory in the NSW 3000m Junior Championship.
South West Sydney Academy of Sport (SWSAS), through its 'Wests Future Stars Program' is very excited to be supporting the development of one of our regions brightest stars.
Narellan Vale teenager; Camden Athletics club representative David Baker has commenced a scholarship with the Academy; this is just recognition for a young athlete very much on 'the up'.
David developed a love of running through the global phenomenon that is Parkrun. He is often running the streets of Campbelltown on a Sunday morning as he goes for a 15 kilometre jog with his friends at the Campbelltown Joggers Club.

Baker is the current NSW junior champion in the 3000m, he is NSW all schools champion in the 5000m and on the national stage he has already achieved some very solid results including a 13th in the 5000m. He won the Fishers Ghost fun run in the open division; he has also won his age division in the world's biggest fun run; the 'City2Surf', last year he covered the 14 kilometres from Hyde Park to Bondi Beach in a breathtaking 47 minutes.
Academy sports program manager James Watson, who is himself an accomplished distance runner, is very positive about Baker's prospects. "This young athlete is a very raw talent; he has only been running for a couple of years and his improvement in recent times is, to be honest, remarkable. I have watched David race many times; along with his obvious talent, he has another gift. He just loves to race!!
David has that ability to just keep pushing his limits when every muscle in his body is 'screaming' at him to stop. Determination and a willingness to 'suffer' are very hard qualities to teach. David brings these qualities in bucket loads. He is very tough."
Through the Wests Future Stars program, SWSAS has engaged former Olympic coach Sean Williams to oversee Baker's development. Williams is very highly regarded. He specialises in endurance athletics, indeed he coached dual Olympian Ben St Lawrence to a national record in the 5000m.
Academy sports program manager James Watson added, "This is a very hard sport and the climb to the top takes many, many years.
There are numerous factors to be considered and with David currently committed to his HSC studies time management and general wellbeing are important factors. A holistic approach and patience are 'key'. Athlete burnout and injury are very real factors. David would race every weekend if he could! Engaging the right people to make sure we get the balance right is our job".
For more information about 'Wests Future Stars' scholarships visit www.swsas.org.au or contact Gerry Knights on 02 4627 7622