ClubsNSW Regional Academy Games Results
Written on the 14 April 2022 by SWSAS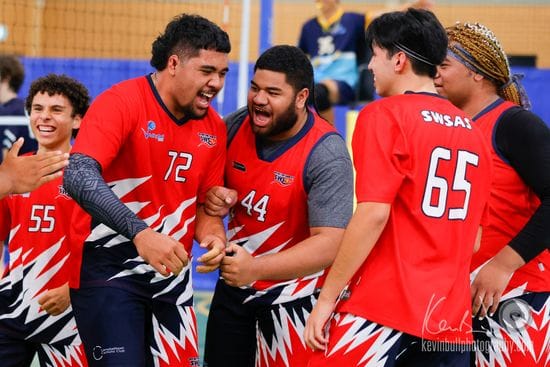 The Academy Volleyball side hit the ground running, despite being the newest program into the Academy Family, taking home Gold in both the Junior and Senior Boys Volleyball tournament, as well as Silver in the Junior Girls.
The Southern Sports Academy (SSA) played host for the first time to the 2022 Your Local Club Academy Games over the weekend of Friday 8th April to Sunday 10th April. Over 1,300 athletes and their families travelled from eleven Regional Academies throughout NSW to compete in the tournament throughout Wagga Wagga. See results below:
Netball
An MVP from each team was announced, as follows:
Div 1: Jayda Grant (CCAS), Mia Marshall (HAS), Chelsea Blanch (IAS), Marene Greyvenstein (NCAS), Janita Leota-Brown (SWSAS), Brooke Bosland (SNA White), Regan Sialeipata (SNA Blue), Ava Moller (SSA), Hallie Wolfenden (WRAS), Olivia Harris (WSAS)
Div 2: Ella Flaus (CCAS), Alirah Watton (FWAS), Acacia Elers (HAS), Ella Brooks (IAS), Fern Berry (NCAS), Charlotte Craig (NIAS), Tiffany Johnson (SESA), Sara Angelina Kami (SNA Yellow), Jessica Ingham (SNA Red), Maddie Black (SSA), Maddison O'Riley (WRAS), Jessica Stevens (WSAS)
The umpire coaching staff have selected the following umpire to be acknowledged following the Games:
Breakthrough Umpire Award: Lauchlan Micalos– NCAS
The following umpires were also badged:
National C
Eden Maitz – NCAS, Bethany Knight – HAS, Mackenzie Winn – HAS
National B
Hannah Green – SWSAS, Ellie Taylor – HAS, Elyssa Noney – WSAS
Golf
Girls Nett Winner - Priya Singh (SWSAS)
Boys Nett Winner - Zane Lowe (NCAS)
Girls Nett Runner-Up - Ellie McCormack (SESA)
Boys Nett Runner-Up - Nelson Sargent (SESA)
Girls Scratch Winner - Robyn Keen (Metro North 76,77 – 153
Boys Scratch Winner - Harry McKerihan (Metro North) 75,74 – 149
Girls Scratch Runner-Up - Amy Squires (HAS) 82,77 – 159
Boys Scratch Runner-Up - Jake Davis (WRAS) 77,72 – 149
Teams Scratch Winners - SWSAS - Zain Kadir, Zackie Kadir, Priya Singh, Noah Graham
Teams Runners-Up - SESA - Thomas Heffernan, Nelson Sargent, Bailey Pearson-Perryman , Oskar Woolridge
Hockey
Boys:
1st – HAS
2nd – Metro 2

Girls:
1st – Metro 3
2nd – NIAS
Basketball
U16 Boys:
1st - WRAS
2nd – SSA
U14 Boys:
1st – SSA
2nd – HAS
U16 Girls:
1st – WRAS
2nd - SSA
U14 Girls:
1st – IAS
2nd - SSA
Triathlon
Female Youth
1st – Sky Bell
2nd – Madeline Platt
3rd – Montana Doubell
Male Youth
1st – Ethan Mackie
2nd – Angus Sampson
3rd – Harry Fraser
Female Junior
1st – Lucie Francis
2nd – Jazmine O'brien
3rd – Alexis Bell
Male Junior
1st – Callum Burge
2nd – William Kelly
3rd – Oliver Schumaker
Relay Teams
1st – HAS in 1:20:07 (Grady Platt, Jazmine O'brien, Rohan Barnes Madeline Platt)
2nd – IAS Red in 1:21:42 (Harry Fraser, Skye Bell, Callum Burge, Montana Doubell)
3rd – ROSTA IN 1:22:04 (Angus Sampson, Petra Fransen, Rhys Olson-Keating, Annika Ingwersen)
Cycling
U15 Boys
Gold – Sydney Wang (SSA)
Gold – Hunter Behnke (SSA)
Bronze – Angus Behnke (SSA)
U15 Girls
Gold - Alexis Phillips (SSA)
Silver – Lara Allen (WRAS)
U17 Boys
Gold – Titus Madeley (SSA)
Silver – Cadel Lovett (WRAS)
Bronze – Xavier Bland (WRAS)
U17 Girls
Gold – Hayley Dell (HAS)
Silver – Ebony Robinson (WRAS)
Bronze – Charlotte Lovett (WRAS)
U19 Girls
Gold – Hallie Boucher (HAS)
U19 Boys
Gold – Luke Nixon (SSA)
Silver – Liam Wilson (HAS)
Indoor Volleyball
Senior Boys
1st – SWSAS
2nd – IAS
3rd – HAS
3rd – NCAS 1
Senior Girls
1st – IAS
2nd – HAS
3rd – NCAS
Junior Boys
1st – SWSAS
2nd – NCAS
3rd – HAS
Junior Girls
1st – IAS
2nd – SWSAS
3rd – NCAS
The 2022 Your Local Club Academy Games is proudly supported by Your local club, the NSW Government, Wagga Wagga City Council, Active Physiotherapy, Southern Cross Austereo, Regional Academies of Sport and Southern Sports Academy.
Full results from the tournament can be found on www.academygames.com.au