Education is Key to Sports Success
Written on the 17 June 2015 by SWSAS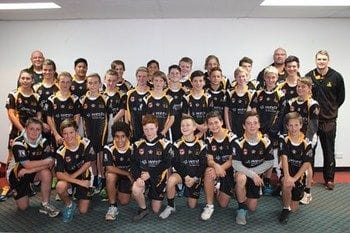 THE South West Sydney Academy of Sport recent focus on sports education has been well received by our regions junior athletes and parents alike.
The Academy continues to provide high quality sports education delivery, appropriate to the sport and age of participating athletes.
Athletes are informed how important the off-field aspect of their lives relates to their overall sporting development.
The Academy recently held a group session at the Camden Civic Centre for Country Group 6 Junior Rugby League under 13 representative players. The evening provided basic player development topics covering the effects of drugs in sport as well as how to 'maximise your sporting potential'.
The room was full of questions and discussion regarding how athletes can stay motivated despite injury and the occasional poor performance. Discussion also included how important it is to genuinely record performance, to measure ongoing improvement. The feedback from the session was awe-inspiring with athletes walking away with practical tools to assist them on their individual sporting journey.
The education for Group 6 players continued the following week with the under 14 and 15 representative players undertaking a 'maximise your sporting potential' education session, specific to their age group.
The Academy also conducted an educational session with the Softball boys and girl's squads, which consisted of the athletes learning about self-massage and injury prevention. This was held at the South West Sydney Institute of TAFE, Macquarie Fields Campus.
Athletes were exposed to the need for ongoing body maintenance and recording and their significance, with regard to the delivery of 'best performance' on the playing field.
Highly regarded industry presenters Carolyn Knights and Jodie Brassil provided simple sport specific hands-on massage therapy education techniques and hints, to athletes and participating parents.
Athlete and parent feed-back highlighted how professional and engaging the practical elements of the self-massage session was, and the worth of learning the key components of how to reduce muscle tension and injury, through the use of foam rollers and a range of other effective self-massage techniques.
The Academy's executive director Gerry Knights stated how pleasing it was to see the increasing number of parents continuing to attend and really engage in Academy sessions such as nutrition, self-massage and injury prevention.