Elite squad heads to multisport championships
Written on the 8 June 2018 by The District Reporter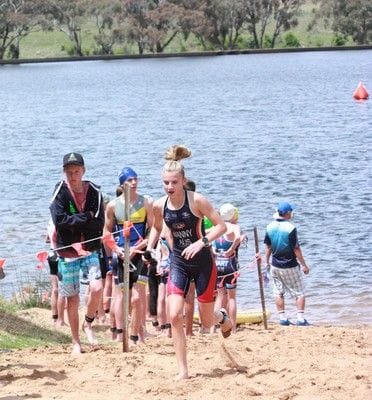 Triathlon Australia announced the Elite U23 and Junior squads for the ITU Multisport World Championship Festival.
The event was held in Fyn, Denmark. Macarthur's very own Erin Densham represented the elite category whilst South West Sydney Academy of Sport (SWSAS) graduates Caitlin Sendt and Cody Salter were selected to compete in the duathlon.
These exciting juniors competed in the 16-19 division, both are emerging talent athletes.
Current SWSAS athlete, Thomas Hine also embarked on the trip after being selected to represent his Country in the sprint duathlon as an age group athlete.
Thomas was very surprised by this selection, but SWSAS sports program manager James Watson said this selection is just reward. "Thomas is a talented young athlete who works exceptionally hard. He has been improving very consistently for a good while now! He is leader within our current program and we are very happy for him," Watson said.
"The two triathletes, Cody Salter and Caitlyn Sendt, who are competing for a Junior World Championship will do us all proud. "We are extremely optimistic about Cody. I watched him race at Homebush a couple of weeks ago, in what was basically a training run; Cody ran 5000m in a touch over 16 minutes. That's quick. He is in red hot form and very excited about this tour."
Travelling to the other side of the world to compete in such a marquee event would normally be a big challenge but this group will take it in their stride. Academy Coach's Guy Creber and David Hine have been very influential in the development of this trio. Together, they tick all the boxes.
The athletes were very well prepared for all aspects of the trip. Training loads, skill development, mental approach, self-belief, positive reinforcement, commitment to squad and love of the sport are all part of the process.

Guy Creber's dedication is such that he was also able to make the trip. He's well equipped to get the very best out of these youngsters on this stage and was there to support and encourage the athletes every step of the way.
The SWSAS triathlon program has a very strong reputation. Over the last three years, 10 of the academies athletes have moved into NSW squads.
Many of these have represented NSW at a National level SWSAS Graduates Blake McKenna and Cody Turner will also represent Australia in the age group category.
For details on the academy call (02) 4627 7622, or visit www.swsas.org.au
Author:
The District Reporter