Eyes set on the Olympics
Written on the 19 May 2016 by SWSAS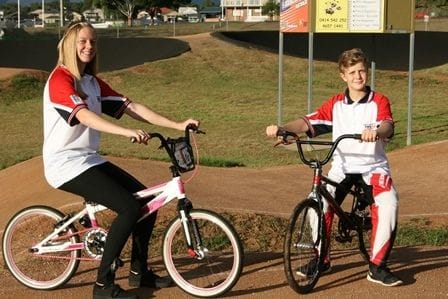 THE South West Sydney Academy of Sport has recently expanded its Lone Star athlete program membership, to include two highly talented young BMX riders from the Macarthur region.
The Lone Star program supports individual athletes in sports where the Academy does not provide a full sports program. Athletes have the opportunity to access Academy services such as personal development and sports education, plus skill development and access to high level coaching.
The recent inclusion of BMX as an Olympic sport has not been missed by young Jessica McCormack aged 16 and Jye Furner aged 13 from the Macarthur BMX club. These fine young athletes have set their sights firmly on being future Olympic stars.
BMX made its debut at the 2008 Beijing, China Olympics' with Australian BMX riders Jared Graves and Nicole Callisto putting Australia on the sports world map, by placing a highly creditable 6th in the men's and women's events respectively.
McCormack commenced BMX at just 8 years of age where she instantly felt a sporting connection, however the ride has not always been smooth in her developing career, with sporting injuries including a serious race fall broken arm, to contend with.
It was not going to be an easy or quick road to recovery for McCormack, but she was determined to pursue her passion for self-improvement and competition participation, and continues to do so.
McCormack has competed at numerous State Championships as well as the UCI BMX World Championships in New Zealand in 2013 and again in Belgium in 2015, where she placed third in all three of her qualifying races. McCormack reached the quarter finals of the competition and ranks amongst the top 30 riders in the world for her division.
Although still a young athlete, Furner is developing a praiseworthy history of his own, having competed in his first NSW State Championship at only 8 years of age and placing in the top 5 at the Australian Championships just a year later. Furner also placed 5th at the 2013 World Tiles in New Zealand.
Both riders have also dominated the track at the NSW level and placed 2nd in their respective age groups at the 2015 NSW State Titles.
The Academy's Lone Star program boasts some of our region's top athletes in the sports of track and field athletics, wheelchair basketball and now BMX and is continuing to grow each year.